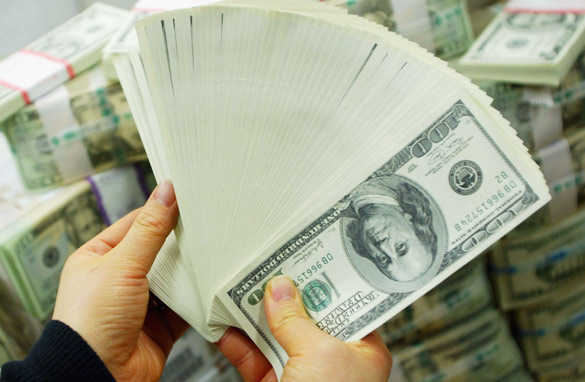 Wall Street and financial firms argue that limiting executive pay to $500,000 is unfair. (PHOTO CREDIT:GETTY IMAGES)
From CNN's Jack Cafferty:
So this week President Obama said executives at companies that get bailout money will not be allowed to earn more than $500,000 per year. Poor things. And if the companies want to pay them more than that, it has to be in the form of stock that cannot be sold until the loans are repaid to the federal government.
The Wall Street and financial firms argue that is unfair. They say talented executives will leave for greener pastures and fatter paychecks at companies that don't take bailout money. Maybe. We'll have to see how many of those are still around if and when this stimulus package gets through Congress. And at this moment that's far from a sure thing either.
But I digress. Back to how to make it on $500 grand a year. Cancel the country club membership? Sell the yacht and the vacation home - homes. Maybe have junior apply somewhere besides the Ivy League where college goes for upwards of $60 grand a year. List the Hummer and the all-terrain vehicles on E-Bay. Maybe check into the cost of a membership in Costco. It's not going to be easy.
Here's my question to you: How would your life change if you were forced to live on $500,000 a year?
Interested to know which ones made it on air?
Tony from Atlanta writes:
I'd live like a king! I could afford to stop living paycheck to paycheck, decent daycare, college funds, a retirement plan, to actually tithe 10% of my income and a yearly vacation that doesn't include piling everyone into the car and driving several hundred miles to visit a relative. Oh yeah, Jack, I could afford a good steak, every now and then, and a lot more laughter!
Adam from Philadelphia writes:
For someone like me, who earns a good middle-class income that would be like winning the lottery. Unless, of course, I suddenly decided I needed new luxury cars, a much larger house, or an 83K rug to decorate my office. These Wall Street crooks have convinced themselves they need all their fancy things so to them 500K just doesn't seem like a lot of money. Hmmm... maybe I'll stay right where I am after all. Thanks, anyway.
Venia from Pennsylvania writes:
I'd be able to pay off my bills and house and have money to live on and not have to buy so much color to dye out the gray hair.
Ricky from Roanoke, Virginia writes:
Like a Republican - with 8 houses!
JW from Atlanta writes:
I'd want to have a babe on my arm, a fancy ride in my two car garage and steak on the table in front of my extra big screen TV. But with federal taxes, state taxes, county taxes, property taxes, sales taxes, ad valorem taxes, user fees, corporate taxes and luxury taxes, I suppose I'd end up with enough for a whiny old lady, an old pickup truck and a burger with onions in front of my tv with no cable.
Matt writes:
If I had to live on $500,000 a year? That's like telling a fat kid that he has to eat his dessert first.
Mike from Syracuse, New York writes:
That would be great. I'd be making enough so I'd be able to stop paying taxes, just like Geithner, Daschle, and company.