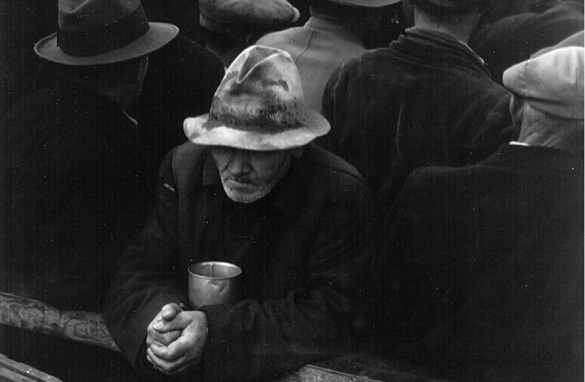 A man waiting at a breadline in San Francisco during the Winter of 1933. (PHOTO CREDIT: DOROTHEA LANGE/NATIONAL ARCHIVES/NEWSMAKERS)
From CNN's Jack Cafferty:
The U.S. economy is in its worst shape since the recession of the 1970s, and perhaps soon it will match the Great Depression. So says the CEO of General Electric.
Jeff Immelt says that unlike other downturns, this one is faced with limited liquidity. He stressed that governments around the world have gone "all in"… "firing as many bullets" as they can to stimulate their economies, and eventually "government always wins". Immelt says it's more important to move forward quickly with a large stimulus package than to worry about the details. Congress - are you listening?
And there's more. Another top economic mind, the co-chief investment officer of Pacific Investment Management Co – or PIMCO – says the U.S. might head into a "mini depression" unless government spends trillions of dollars. That's trillions, with a "T." Bill Gross told Bloomberg TV "there is a potential catastrophe if the U.S. government continues to focus on billions of dollars". While Congress bickers about mere hundreds of billions, a couple of the brighter bulbs in the private sector suggest it's going to take much, much more.
Gross says that the Fed is going to have to buy Treasuries. That's because some believe that as China's economy slows, it may start buying less of our debt. Goldman Sachs estimates that government borrowing will reach $2.5 trillion this fiscal year.
Meanwhile, these grim assessments came right before today's report that employers cut another 598,000 jobs in January – the worse job loss since December 1974. It brings the unemployment rate to 7.6%. Happy Friday.
Here's my question to you: Is the U.S. government capable of heading off a full-blown depression?
Interested to know which ones made it on air?
Paulette from Dallas, Pa. writes:
Yes. The government needs to reign in these banks and make them start to lend. Pump monies into the middle class who will in turn spend it - if provided a financial stimulus package. Fund a jobs program such as the DPW in the 30's and the CETA Program in the 70's. Put people back to work. American people are resilient and proud. They don't want to be unemployed and on welfare.
Barbara from Michigan writes:
The government could do a lot to help get the economy moving in the right direction but it will take some political courage for the Republicans to act in a bipartisan way and support Obama's efforts to fix the mess. Humility and cooperation are not big on their list of character traits.
Jay from Brownwood, Texas writes:
No, the government is the cause of the coming Great Depression #2. Funneling trillions of dollars into the hands of this country's super-rich corporate elitists will not solve anything. The giant banks, who received the first bundle, gave a good example of what will happen to the rest of the bailout cash. They will sock it away so they will not be affected and the rest of us can go to hell as far as they are concerned.
Jackie in Dallas writes:
No, the government can't head it off, Jack, but they can cushion the effects it has on the citizens of the country. Eventually, when more of the rich become poorer, things such as universal health care can be instituted without screams of socialism.
Ian writes:
I don't think the government is capable of putting the right shoe on the right foot, never mind saving the economy.