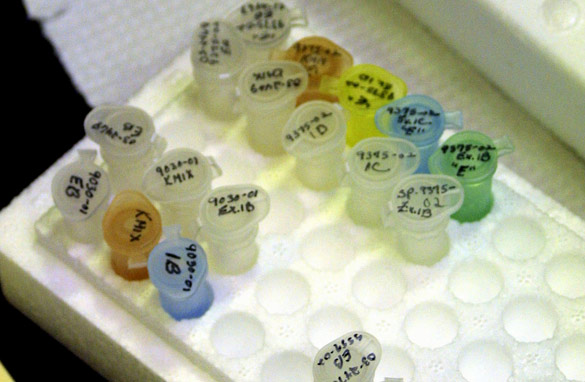 Washington State is considering a bill that would require DNA samples from shoplifting suspects. (PHOTO CREDIT: GETTY IMAGES)
From CNN's Jack Cafferty:
Suspects in Washington State arrested for crimes like shoplifting or driving with a suspended license might soon be forced to give a DNA sample.
The state is considering a bill that would require these samples before the suspect is even charged with a crime. More than a dozen states already allow this - and two others are considering similar proposals.
Under Washington's bill, anyone arrested for a gross misdemeanor or felony would be forced to give a DNA sample. It would be stored at the state crime lab and destroyed if no charges were filed or the person was found not guilty.
Supporters say collecting DNA helps solve crimes – that it would make it easier for law enforcement to close cases and also to free those who have been falsely accused. One murder victim's mother praised the bill, saying DNA "helps us protect the innocent and catch the bad guys."
But Critics say the proposal enables unwarranted searches and would elevate those arrested for less serious crimes into the same category as violent convicts. Criminal defense groups and the ACLU are calling the bill unconstitutional – violating the right against unreasonable search and seizure.
It's estimated the program would cost $1 million over two years. And one lawmaker says although he likes the bill, he doesn't think now is the right time to pass it because of the state's money problems.
Here's my question to you: Should states be allowed to collect DNA samples from suspects arrested for shoplifting?
Interested to know which ones made it on air?
Jim from North Carolina writes:
I do not believe that DNA samples should be collected from any citizen unless they have been "convicted" of a felony offense. Americans have a right to privacy and I believe DNA is a privacy issue.
Helena from Clearwater, Florida writes:
Everyone arrested for a crime, no matter how big or small, should submit their DNA. My hope is that DNA will be collected someday like fingerprints. It's a much better method of identification.
Theresa from Atlanta writes:
What happened to the Fourth Amendment as well as the right to be innocent until proven guilty? Anyone who thinks law enforcement will destroy the samples of the innocent is an idiot.
Bizz from Quarryville, Pennsylvania writes:
Jack, We live in a free society and it is very important that we keep it that way. Starting to swab everyone's mouth for DNA - from a kid stealing a candy bar to a charge of reckless driving - is no way for a democracy to keep its freedom. I feel anyone convicted of a felony, including a felony shoplifting charge, in a court of law should have their DNA on record just like fingerprints. We need to use all of tools we have available to catch criminals. But we have to be very careful that we do not walk all over the bill of rights to do it.
Eric writes:
Please say it ain't so. The ACLU will oppose it of course because these criminals' rights are being taken away. Heaven forbid we protect the public and actually do something that makes 100% sense. We don't want to offend anybody: criminals, terrorists, rapists, and pedophiles.
Judie from St. Augustine, Florida writes:
Jack, Why not just collect DNA samples from our entire population as part of the stimulus bill? Look at all the jobs it would create and then Big Brother would have a lot more information on us. Seriously, this has got to be a joke, right? I can see taking DNA samples on sex offenders, killers and people who commit violent crimes. But shoplifters? Please.