From CNN's Jack Cafferty:
President Obama is promising to take "the air out of golden parachutes" by capping how much executives whose companies are getting bailout money can earn.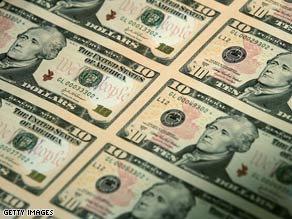 The president wants to cap how much executives whose companies received bailout money can earn.
The president set a $500,000 cap on senior executive pay at those institutions that are in the worst shape and get money from the government in the future.
Mr. Obama highlighted last year's handout of $18 billion in Wall Street bonuses – something he called "shameful"... saying that's the kind of disregard that brought about our current crisis.
Under his plan, companies that want to pay their executives more will have to do it through shares of stock that can't be sold until the companies pay back the government.
There's more. The new rules also require that shareholders have more say about how much the executives get paid. And, companies will have to show more transparency when it comes to costs for things like holiday parties and office renovations. The president also promised more reforms to come, as his administration cracks down on a quote "reckless culture."
This all is starting to sound a bit like socialism. We either have a "free enterprise" system or we don't. Granted abuses by certain CEOs have invited this, but where are we going when the government starts dictating how much people are allowed to earn?
Here's my question to you: Should the government dictate executive compensation at companies that get bailout money?
Interested to know which ones made it on air?
Ralph from Yakima, Washington writes:
Absolutely. First the banks take "our" deposits and waste "our" money saying it's "their" money. Then they take "our" tax money and spend it as if it is "their" money. Just take over the banks, nationalize them. Put these bums on the unemployment line. Enough is enough.
Rae from Indiana writes:
If I apply for a loan and don't like the terms, I am free to not take the loan. These companies have the same ability. It is the right thing to do.
Michael writes:
We need to stop with the half measures. Either let them fail or nationalize them, turn them around and sell them off in a few years. This country cannot take action or even talk about major issues without euphemisms and compromises that end up giving us the worst of both worlds: socialism for the rich and capitalism for the poor.
Matt from Minneapolis writes:
Jack, The government gives billions out in any ordinary year to publicly traded companies and privately owned alike. Whether it be loans, paying for parts of big stadiums, or tax credits to attract businesses to build in our cities, we still give them billions. Why should we restrict the pay of CEOs we "bail out" if we don't restrict the pay of A-Rod or Bill Gates? Just a thought.
Andy from Lynn, Mass. writes:
The government has every right to dictate how its money will be spent. In fact, I vote for the most stringent controls on the bailout money so that every penny is accounted for. The crass arrogance displayed by the captains of business sickens me.
Betty from West Virginia writes:
Yes! Just ask anybody on welfare and they will tell you that the government tells you what you can and can't do. When these companies take money from the government, they are on welfare!