From CNN's Jack Cafferty:
Despite all the lofty talk during the election about change, hope and ushering in a new era in Washington... most people don't think it's happened.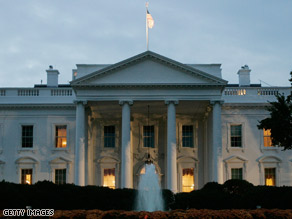 A new Gallup poll shows only 21% of Americans think the tone between Democrats and Republicans in our nation's capital has gotten better.
A new Gallup poll shows only 21% of Americans think the tone and "level of civility" between Democrats and Republicans in our nation's capital has gotten better since President Obama came into office last month. 23% think things have gotten worse. More than half – 51%– say it's stayed the same.
The poll also found that Democrats are more likely to say the tone has improved, not surprising since they have one of their own in the White House, while Republicans are more likely to say it's gotten worse. Independents are about evenly split.
Last week's party-line vote in the House of Representatives on the economic stimulus package was the nation's first look at how Washington might operate during the Obama administration... and the partisanship looked a lot like what we saw under President Bush. This vote came despite the president's efforts at bipartisanship – a including a stop on Capitol Hill to meet with Republican leaders and hosting a bipartisan Super Bowl party at the White House. The New York Times reports that Republicans have been scoring invitations to the White House nearly as often as Democrats have. One Republican Congressman who attended the Super Bowl Party says such a meeting "humanizes and personalizes" your opponent and that it helps people put politics aside.
Here's my question to you: What is your prescription for ending the bitter partisanship in Washington?
Interested to know which ones made it on air?
Terry from Greensburg, Indiana writes:
If the economic stimulus package was what it should have been to begin with, Obama would have gotten bipartisan support. Why didn't he realize Democrats were filling it with things they hadn't gotten for the last 8 years? Like a bunch of little kids that hadn't seen Santa Claus for 8 years. My prescription is: make it what it should be - get the home mortgage situation settled, do what's necessary to get people back to work, and cut the rest of the bullcrap.
Dan from Oregon writes:
Send a copy of a check made out to the other party to your local congressman or senator and tell them it's going in the mail by the end of the month if things don't change. Dems need to call out Dems. Republicans need to call out Republicans.
Tim writes:
I think the change has to come from the ground up. Politicians have to make choices that keep their constituents happy, or they'll lose their jobs. This generally means speaking out against the other side and working against them. If we can find the strength to be more patient with our elected representatives, maybe it would give them the chance to work towards compromises with the other side without taking the risk of losing their jobs.
Marie writes:
Term limits, term limits, term limits.
Donna from Wisconsin writes:
Remind the Congress with a big neon sign daily: "Obama is in the White House because we liked what he had to say and believe in him". Republicans just don't get it: if we had liked their 8 years of economic ideas, we would have voted for McCain.
Karen from Florida writes:
To the dreamers who think it's just the Republicans, think again.
Tracy writes:
How about some good old-fashioned Canadian apathy?