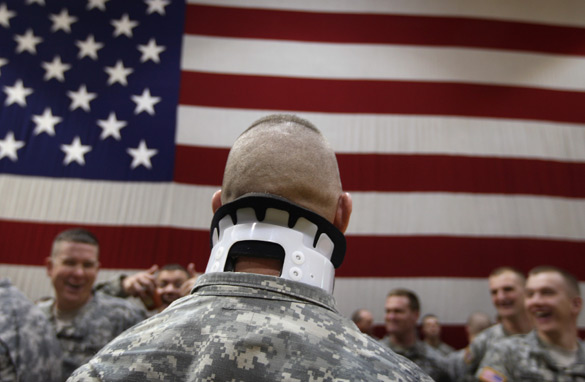 The Department of Defense and the Department of Veterans Affairs report that battlefield injuries and deaths in Iraq and Afghanistan have increased significantly. (PHOTO CREDIT: GETTY IMAGES)
From CNN's Jack Cafferty:
An article by the group Truthout sheds light on a true national tragedy.
The Department of Defense and the Department of Veterans Affairs report that battlefield injuries and deaths in Iraq and Afghanistan are up, way up.
According to data obtained through the Freedom of Information Act by the group Veterans for Common Sense, the number of veteran patients now stands at more than 400,000, up from 263,909 in December 2007.
Mental illness, mainly post traumatic stress disorder, is the diagnosis for 45% of them.
Lawmakers have helped some. the Dignity for Warriors Act was passed, which gives veterans up to five years of free health care for military-related conditions.
But getting adequate health care and compensation is still a problem, according to Truthout.
Bob Filner, Chairman of the House Veterans' Affairs Committee released a statement asking for veterans to be considered in the stimulus bill. It's a request that is beyond reasonable.
He said, "We can invigorate the economy by modernizing the 153 existing V-A medical facilities, repairing veterans' cemeteries, constructing new V-A hospitals, addressing the claims backlog, and investing in vocational rehabilitation for our returning combat veterans."
According to Filner, the House version of the bill includes $1-billion for veterans while the Senate allots $3.94-billion. We'll see what passes in the end.
Here's my question to you: Why doesn't this country do a better job of taking care of its veterans?
Interested to know which ones made it on air?
Sam from Fairview, Texas writes:
Jack, I am a disabled veteran and I get great care from the Veteran Administration. Some veterans don't seek help that is available to them. Others do not want to follow policy and rules to obtain help. Some don't want anyone's help. For years the disabled veterans numbers declined because we didn't have a war. Now we have a bunch of folks coming back from Iraq with mental problems and physical ones as well. It is kind of like the squeaky wheel Jack. No one paid attention to it before and few even knew a disabled veteran except on Veterans Day. Times are changing.
Fred writes:
The Government has no money for us, the veterans, because all the tax money is going to the fat cats. We did our duty to our country we died for our country, got crippled for life for our country. We didn't mind for it was our duty. Tell us Jack, what do we get for doing our duty? We were not draft dodgers. We do not use this country. We love, love and die for it. Not for our government.
Kelli from Virginia writes:
We would rather spend millions of dollars on executive bonuses, quit smoking programs, car companies, art museums and whatever other pork project seems good at the time. Wouldn't all of that money in the stimulus package go a long way towards increasing veteran's benefits, housing for elderly veterans, psychiatric care for soldiers returning from Iraq, and increase job placement programs. But hey, they're just veterans-D.C. has more important things to deal with. Who cares about the 93 year old WWII veteran that froze to death? Money to be made and spent on the important things in life!
Susan from Greenfield, Wisconsin writes:
My husband is a Vietnam veteran, and he says that it costs too much to take care of the veterans as far as Washington is concerned. The reason why the vast majority of our troops come from poor families is because there is no other way out of poverty for them and the power structure knows this. So the soldier is taken advantage of instead of being cared for.
John frpm Anderson, Indiana writes:
Good question. We seem to have plenty of money for bullets but no money for wheelchairs. The Limbaugh Party just likes to start wars that the poor have to fight. Bush and Cheney's lies destroyed so many lives. If either one of them had the courage to actually serve their country in time of war maybe things would be better for our heroes. What's McCain's excuse for voting against helping vets, anyway?