From CNN's Jack Cafferty:
The Pew Researcher Center asked, "Where would Americans most like to live and how do they feel about the place they call home?"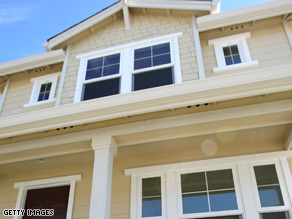 Where would you live if you could live somewhere else?
The bottom line is that the grass is always greener on the other side of the fence.
They surveyed more than 2 thousand adults back in October and found that 46% would rather live in a different type of community than the one they live in. City people want to move out to the country, and country folks want to head for the big city.
And when it comes to big cities what do they have in mind? Well Denver, San Diego and Seattle are the cities most people said they want to live in. Also high on the list: Orlando, Tampa, San Francisco and Phoenix. While Detroit, Cleveland and Cincinnati are the cities most people don't want to live in.
Even though people are longing to live elsewhere, 8 in 10 rate where they currently live as excellent.
Of course the Pew folks break it down in every way possible so they can tell us things like more men than women want to live in Las Vegas and younger adults would rather live in Los Angeles and New York and so on. It's Friday.
Here's my question to you: Where would you live if you could live somewhere else?
Interested to know which ones made it on air?
Daniel from Budapest, Hungary writes:
Jack, the only city I always wanted to live in, is where you are standing front of the camera right now. New York is greatest place on Earth, it's not a question for me. Wish I had a green card to work there, or were a millionaire to buy a condo on Fifth Avenue with view to the Park.
Chris from California writes:
Anywhere I can find a good job.
Charlie from Belen, New Mexico writes:
I'm already there Jack. I used to have to shovel snow. Now when it snows I sit on my retired keister and by the time I've finished my cup of coffee it's melted. I can go outside at night and see a sky full of stars. I can stand in the road and look out over an area larger than the state of Connecticut. What else should I want?
Ann from New Hampton, New Jersey writes:
Since I live in the state of New Jersey that has the highest tax rate and not much else, probably down South somewhere where the living is easy and the taxes are low.
Mary Alice from Columbus, Ohio writes:
After the week we've had, I would like to live in any city that actually understands the concept of snow and ice removal.
Dave writes:
Jack, I'd like to live over a deli.
Frankie writes:
In the Sixties. Peace and love, Jack
Casey writes:
With you Jack to brighten your day