From CNN's Jack Cafferty:
Republican Senators have vowed to fight the economic stimulus package after it passed the House with no support from their Party.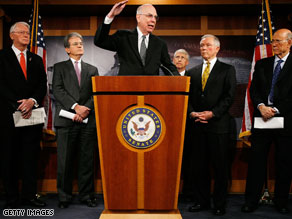 U.S. Sen. Robert Bennett (R-UT) (C) speaks as (L-R) Sen. Jim Bunning (R-KY), Sen. Tom Coburn (R-OK), Sen. Roger Wicker (R-MS), Sen. Jeff Sessions (R-AL) and Sen. Pat Roberts (R-KS) look on during a news conference on the economic stimulus package on Capitol Hill January 29, 2009 in Washington, DC.
They swear this is not a case of the usual political games and insist that the bill is a waste of money unless it includes more tax cuts and details on where the more than $800-billion is going.
But they are also still whining about being left out of the process, saying the Democrats are ignoring their concerns. This despite the fact that several changes were made in the House version of the bill specifically to placate the Republicans.
The Democrats have launched an offensive. They've started running ads targeting Republican Senators who are up for re-election and urging them to vote for the stimulus package.
Mississippi Senator Roger Wicker pointed out an ad in the Washington Post in which 300 economists agree with Wicker and his Republican colleagues that passing the bill is the wrong thing to do. He added, "a trillion dollars is a terrible thing to waste. Let's be careful we're not making the situation worse in an attempt to make it better."
Despite all the bickering, at the end of the day it's expected the bill will pass the Senate, but with changes from the version that passed the House.
Here's my question to you: How should the economic stimulus bill be changed?
Interested to know which ones made it on air?
Tony from Michigan writes:
I wonder how many of those 300 economists recommend handing out $700B so fast that we don't know where all of it went? Sen. Wicker and the Republicans are acting like they did not just get done helping Bush ruin this country financially. They need to sit down and shut up.
Jack from Lancaster, Ohio writes:
The change I suggest is to forget the bailout and see the fallout. This will cost billions of dollars less with no net change on the perceived problem anyway. The suggestions mean that the public is no less broke without enhancing the lawless financial culture.
Mike from Colorado writes:
Reduce the work week to 32 hours and keep salaries the same. The result would be 20% more jobs. Reimburse employers and sunset the law. Eliminate other tax reductions for business. Establish import taxes for all companies that have exported jobs to start in two years unless those jobs are brought back.
Jean from Connecticut writes:
It seems to me we need to start with an agreement on what 'stimulus' is. I would recommend a set of guidelines starting with a timeframe, like 12 months, in which the funds have to be spent/appropriated. Then some guidelines on how the funds will be allocated. I like 50% on infrastructure (roads, bridges, electrical grid, alternative energy), 25% on business incentives (i.e. lower corporate tax rates, investment tax incentives on capital improvements like plants, instruments, technology etc.) and 25% on consumer incentives (i.e. lower tax rates, consumer rebates on selected purchases like home energy improvements, purchase of efficient autos etc.).
Joe from Minnesota writes:
The whole thing should be scrapped and the free market system should be permitted to work. If the government doesn't trust the free market system anymore, then stop calling it a bailout and start calling it Socialism which is what it is.
Jack from Shenandoah, Pennsylvania writes:
Jack, let's add a barrel of beer to each unemployment check so that we can sit around and get good and "stimulated" because this bill sure as hell isn't going to put us back to work anytime soon.