From CNN's Jack Cafferty:
As you know, the House passed an $819-billion stimulus package yesterday. Now a different version of the legislation will make its way through the Senate.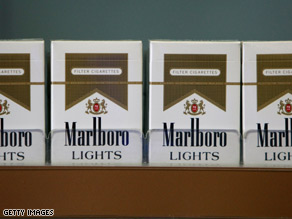 A version of the stimulus bill includes $75 million to get people to quit smoking.
That version includes $75-million to get people to quit smoking. It was sponsored by Iowa Senator Tom Harkin who says the idea is to ultimately reduce health-care costs.
To make his case, Harkin cited reports that show smoking is the leading cause of preventable diseases and costs $110-billion a year in health costs.
Seems straight forward: Get people to quit smoking and they won't drain the health care system. Perhaps that's the same line of thinking that went into the $400-million the Senate included to prevent sexually transmitted diseases. The House version included $335-million for that.
Some of the $75-million to get people to kick cigarettes will go to the Department of Health and Human Services to bolster anti-smoking campaigns that already exist. Another chunk will go to the Centers for Disease Control and Prevention for equipment that tests the contents in cigarettes. Do we need this? Cigarette packages plainly tell you smoking will probably eventually kill you. And I find it very hard to believe we need additional equipment to test the contents in cigarettes. Tobacco and carcinogens would seem to cover it.
Here's my question to you: How does getting people to stop smoking stimulate the economy?
Interested to know which ones made it on air?
Casey from Sebastopol, California writes:
As much as I back President Obama's plans, I think this stimulus bill should not include that kind of stuff typically promoted by Congress. Save it for the health care bill later.
JW from Atlanta, Georgia writes:
Depends on whether you're an undertaker or a retirement community worker. Depends on whose economy you want to stimulate.
ST writes:
I think it can go both ways. For smokers to stop, that means they have more money to spend on other things and this could cut down on healthcare expenses. I have relatives who smoke and can't quit, but at the same time can barely afford the cigarettes. On the other hand, this could put a lot of people out of work. I live in North Carolina, so this could really affect our way of life here.
HD from Phoenix writes:
Jack, I do not see how this stimulates the economy. However, as a registered respiratory therapist I have personally witnessed many ways in which smokers place huge financial burdens on society in terms of insurance costs and in terms of financial burdens to state sponsored health care systems. All of these expenses are completely avoidable if people simply do not smoke.
Bill from Michigan writes:
Heck no, smokers generate millions, if not billions, of dollars in tax revenue on tobacco purchases, not to mention all the jobs they create in the healthcare industry when they are treated for heart disease, cancer, bronchitis, etc. Just imagine the loss of jobs and revenue if we actually had a society of health conscious people.
Ron from Florida writes:
Did we or did we not have a better economy when everybody smoked including the belching steel mills and factories of the "Rust Belt"?