From CNN's Jack Cafferty:
I have a bone to pick with my own industry.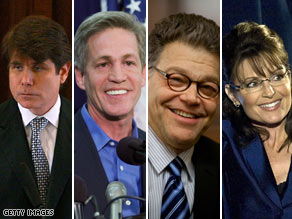 From L-R: Rod Blagojevich, Norm Coleman, Al Franken and Sarah Palin
Minnesota held an election for a Senate seat last November. It is almost February, and they still can't figure out who won: Norm Coleman or Al Franken. I quit caring several weeks ago. Minnesota elected Jesse Ventura to be their Governor, a former wrestler. They have no credibility when it comes to elections.
Illinois Governor Rod Blagojevich came to New York a few days ago to babble incoherently about all the various charges pending against him, including his impeachment, and the news media reacted like he was the second coming. If the New York media is hungry for three dollar bills, we have a great home grown crop of our own, without indulging this narcissistic phony product of Illinois machine politics.
And finally, there's my all-time favorite empty dress: Sarah Palin. She announced she's forming a political action committee. I'll give you eight to five she can't even spell it. But the media breathlessly jumped on this story like the future of the free world hung in the balance. Who cares? The next presidential election is almost four years away. And she's got as much chance of being the next president as Bugs Bunny.
OK, I feel better now.
Here's my question to you: How tired are you of hearing about Rod Blagojevich, Norm Coleman, Al Franken and Sarah Palin?
Interested to know which ones made it on air?