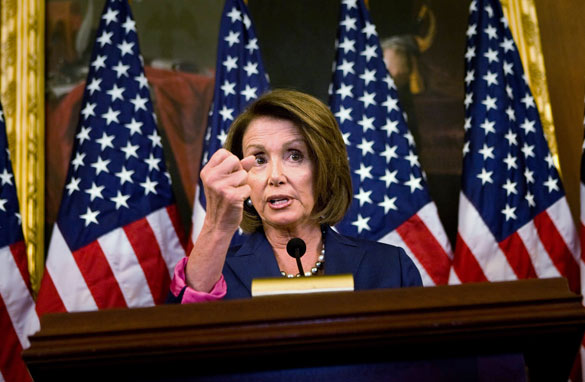 House Speaker Nancy Pelosi has been the subject of criticism from Republicans and some Democrats. (PHOTO CREDIT: GETTY IMAGES)
From CNN's Jack Cafferty:
Politico calls it the love affair that wasn't meant to be. They are talking about President Obama and Congressional Republicans.
Republicans are still whining about being shut out of the crafting of the stimulus bill. Just like they shut the Democrats out when they controlled Congress.
The President has been trying to smooth things over behind closed doors and even said late yesterday that he'd be willing to make changes in order to address some Republican concerns. For one thing he told Democrats to remove the money for contraception that was part of the package, which House Speaker Nancy Pelosi defended just the day before.
The GOP has been careful not to criticize the new President who everybody is in love with at the moment. Perhaps they know where to draw the line. But that doesn't mean they can't complain about Pelosi, and they are. This is not first time Madame Speaker has been the subject of criticism, and not just from Republicans. Some in her own party are less than thrilled with her. There is a quality about Nancy Pelosi that, for want of a better word, is just plain annoying.
Here's my question to you: Would President Obama's life be easier without Nancy Pelosi as Speaker of the House?
Interested to know which ones made it on air?
John from Collinsville, Illinois writes:
You betcha!
Sara writes:
Man, are you going to get creamed! A lot of people will think it is because you are turned off by 'uppity women', but I am one of those 'uppity women' and I agree with you. She is annoying and I don't know exactly why, but I do think she is an impediment to the President's agenda.
Paul from Austin, Texas writes:
I do not think so. Remember he does not want just yes people on his team and whether he likes it or not she is part of his team.
Gary from El Centro, California writes:
That would depend entirely on who might be there if she wasn't. The old saying "better the devil you know, than one you don't" comes to mind. Pelosi is politically astute enough to recognize how popular President Obama is right now and how silly she would look trying to undercut him. She will play ball.
Sandra from Texas writes:
Absolutely not. Pelosi is the only Democrat I see that has any backbone whatsoever. I remember when Nancy Pelosi was minority leader in the house and the Republicans booed her on the house floor. They gave her no respect and no voice. I personally think we would be better off today if we had a President Pelosi than a President Obama. He is the one that is starting to annoy me with all this kissy facing of Republicans.
Paul from Columbia, South Carolina writes:
Nancy Pelosi should stay. For this senior citizen, she is great for checking my reaction time. The moment she comes on TV, I see how fast I can hit the change channel button.
Mary from Atlanta, Georgia writes:
All our lives would easier.
Jim from Oakland, California writes:
Nancy annoys you? That's great! You are a lot more fun when you are reeaaally annoyed!