From CNN's Jack Cafferty:
In meetings to hammer out an economic stimulus package acceptable enough to pass an anticipated House vote, President Obama told Republicans he's not willing to compromise on tax rebates for nearly every working American.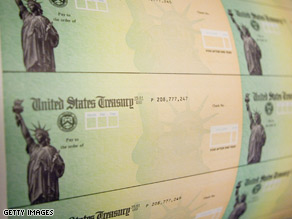 Should Americans who don't pay income tax receive one of these stimulus checks?
According to an aide, the President said, "Feel free to whack me over the head because I probably will not compromise on that part."
Every working American includes people who don't make enough to pay income taxes. The President justifies his support because these people do pay payroll taxes, Social Security and Medicare and therefore, they are taxpayers.
No matter how you look at it, the economy is bad and that's true for everyone, whether you pay income taxes or not.
Jobs are disappearing by the millions and people are scared.
The Conference Board's Consumer Confidence Index fell to 37.7 this month, which is an all-time low dating back to 1967.
There's no light at the end of the tunnel, at least not yet. And President Obama might be giving a glimmer of hope to the least fortunate among us by standing his ground.
Here's my question to you: Should people who earn too little to pay income tax be given tax rebates?
Interested to know which ones made it on air?
Marieth from Chicago, Illinois writes:
I really don't understand taxes as much as others, but if they can find billions for the banks, why not for the little people.
Hugh from Tracy, California writes:
We bailed out Wall Street, home to the rich and powerful, how about a bailout for the poor and voiceless? The corporate elite will fight this tooth and nail, they think our taxes should only go to pay for their miserable failures. Give the less fortunate a break, at least it would be a change. People only call it socialism when you give money to the needy, then call it a stimulus package when you give away hundreds of billions to corporations.
Rick from Swarthmore, Pennsylvania writes:
I'm getting pretty sick of these holier than thou Republicans. If you'll pardon the expression, I don't pay jack in income taxes. I'm self employed, and write off everything I legally can. Though my income tax is low, I'll trade my self employment tax bill of approximately $9,000 for most people's income tax bill. I sure think I contribute enough to get a check, even if I don't pay "income taxes."
Keith from Cleveland, Ohio writes:
Jack, this isn't a time for hand outs for those not filing returns or retired. The purge that we are going thru will reduce some of our prices in time. What we need is to get people back to work, people paying their mortgages, and corruption out of our finances. The $300 did not do what was expected of it. Government needs to work with business to get our industries back. We need to make widgets that the world needs, again.
Fran from Brimley, Michigan writes:
For many years the very rich had loopholes and barely paid any income tax. No one said a thing. Now its time to give to our less fortunate and there's outrage because they didn't pay any taxes. What's wrong with this picture?
Julie writes:
Only if President Obama will agree to call it Welfare instead of a Tax Rebate, which is what it really is.