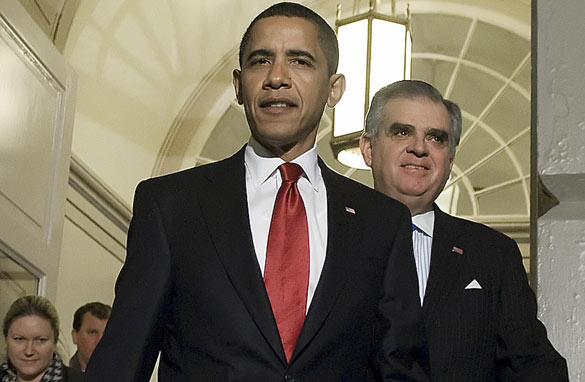 President Barack Obama arrives on Capitol Hill to meet with House Republican Conference on the economic stimulas package on January 27, 2009. He is followed by US Transportation Secretary Ray LaHood. (PHOTO CREDIT: JIM WATSON/AFP/GETTY IMAGES)
From CNN's Jack Cafferty:
South Carolina Senator, Jim DeMint, said in a speech this week that the Obama administration is creating crisis and widespread panic to push the economic stimulus package. He likens the air of urgency to previous tactics used by the Bush administration to get the people and Congress to go along with whatever they wanted.
Senator James Inhofe, from Oklahoma, said this was the same tactic used by the Bush administration to get the $700-billion TARP bill passed in October, which has left some Republican lawmakers with buyers remorse. The Senators admit that it's hard to know how things would have played out if the bill had not passed, but that's not the point. DeMint is pointing his finger, not at his colleagues on the Hill, but at Bush and former Treasury Secretary Henry Paulson for saying the world economy will collapse if you don't do this.
Sounding somewhat parental, DeMint said, "I've been around long enough to know whenever someone tells me I have to make a decision right now, my response is no."
But DeMint's real point in all this was to say the stimulus plan that's on the table won't stimulate the economy at all, rather, it's filled with big-government wasteful spending projects. Only time will tell if that's the case.
Here's my question to you: Is President Obama exaggerating the crisis in order to get Congress to act?
Interested to know which ones made it on air?
Nancy from Colorado writes:
Where did that question come from? How many millions of people out of work? Believe me, it's trickling down mighty fast through the entire country. Crisis is an understatement.
Meg from Troy, Ohio writes:
Jack: I hope it would not take a crisis of this magnitude to get Congress to act, but based on their recent track record, that may be the case. Someone needs to act and soon, or we're going to be talking about our economy and our way of life in the past tense.
Dan writes:
I don't think he is exaggerating about the problem. We are in a serious crisis. However, this bill smells a lot like the last bailout. Rushed out to give people the impression that Washington is working for them. Anyone watching the job losses know what the economy needs is jobs. The entire package should be for Public Works and other like programs that give people jobs. I want to be taught to fish, not just given one.
Bruce from St. Paul, Minnesota writes:
The crisis has been here for a while, and has been coming down the tracks since 1981. Reaganomics in the 80's and Reaganomics on steroids the last 8 years. Most of us quit keeping up with inflation about 2001, survived on savings, then on borrowing against our inflated home prices. Now we are running on fumes.
Spencer writes:
Of course he is. In his inaugural speech Obama compared the present difficulties to Valley Forge for Pete's sake. Anyone who tells you that 8% unemployment rivals the Great Depression or Valley Forge either doesn't know their history or thinks you don't know yours.
Bill from Tampa, Florida writes:
I have a better one for you, Jack. There is a better bet that the Republican Party has created a crisis that is forcing itself to become extinct around the year 2012.