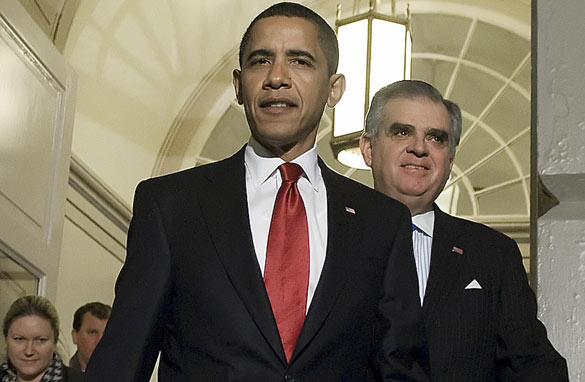 President Barack Obama arrives on Capitol Hill to meet with House Republican Conference on the economic stimulas package on January 27, 2009. He is followed by US Transportation Secretary Ray LaHood. (PHOTO CREDIT: JIM WATSON/AFP/GETTY IMAGES)
From CNN's Jack Cafferty:
South Carolina Senator, Jim DeMint, said in a speech this week that the Obama administration is creating crisis and widespread panic to push the economic stimulus package. He likens the air of urgency to previous tactics used by the Bush administration to get the people and Congress to go along with whatever they wanted.
Senator James Inhofe, from Oklahoma, said this was the same tactic used by the Bush administration to get the $700-billion TARP bill passed in October, which has left some Republican lawmakers with buyers remorse. The Senators admit that it's hard to know how things would have played out if the bill had not passed, but that's not the point. DeMint is pointing his finger, not at his colleagues on the Hill, but at Bush and former Treasury Secretary Henry Paulson for saying the world economy will collapse if you don't do this.
Sounding somewhat parental, DeMint said, "I've been around long enough to know whenever someone tells me I have to make a decision right now, my response is no."
But DeMint's real point in all this was to say the stimulus plan that's on the table won't stimulate the economy at all, rather, it's filled with big-government wasteful spending projects. Only time will tell if that's the case.
Here's my question to you: Is President Obama exaggerating the crisis in order to get Congress to act?
Interested to know which ones made it on air?