From CNN's Jack Cafferty:
It's been one week since Barack Obama became our 44th president, and a busy week it's been–signing executive orders, meeting with his teams of advisers on the economy, national security, Iraq and the Middle East. He's also been meeting with lawmakers from both parties trying to win support for his emergency stimulus package.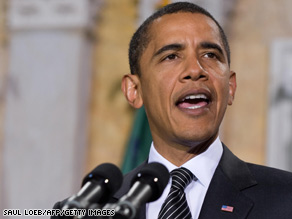 In addition to getting his feet wet, the new President is learning some things along the way.
For example, the White House press room is where the press is, and if you don't want the press to ask you questions, don't go there.
If you're going to ban lobbyists from working for you, you have to ban the one that used to lobby for Raytheon from working in your Defense Department as well.
If you're going to close Guantanamo, you have to have a plan for what to do with the inmates there. A couple of them have turned up in recent al Qaeda videos.
You can't overturn President Bush's executive order banning abortion funding for charitable groups overseas without incurring the wrath of right-to-lifers in this country.
And picking a fight with the corpulent Oxycontin aficionado of right wing talk radio, Rush Limbaugh, will mobilize a bunch more on the conservative right and begin to down your approval ratings.
But the new President seems to be weathering the storm quite well. The latest Gallup Poll, taken over the weekend, gives him a 69% job approval rating.
Here's my question to you: How would you rate President Obama's first week in office?
Interested to know which ones made it on air?