From CNN's Jack Cafferty:
The $825-billion stimulus package that President Obama wants on his desk by mid-February is supposed to start turning the economy around. The President talked about transparency and has even announced that a Web site will give an accounting so people can keep track of how the money is spent. He's also vowed that there will be no pork in the bill.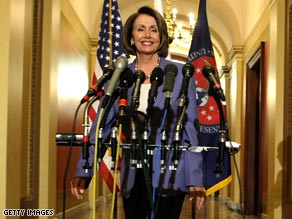 House Speaker Pelosi recently said that contraception would "reduce costs to the states and to the federal government."
Over the weekend lawmakers got on their soap boxes. Democrats were out peddling the plan and Republicans were pointing out the problems.
On ABC, House Speaker Nancy Pelosi defended hundreds of millions of dollars in the stimulus package earmarked for family planning.
She said family planning reduces costs and explained that the stimulus plan includes assistance to states and part of that includes children's health and education. That includes contraception, which she said will, "reduce costs to the states and to the federal government."
What exactly did she mean? Are the millions of dollars for birth control supposed to stop people from having babies? She's starting to sound like Chairman Mao.
When asked if she had any apologies for those remarks, Madam Speaker answered, "no apologies."
Here's my question to you: Is House Speaker Nancy Pelosi right when she says adding birth control to the stimulus package will help the economy?
Interested to know which ones made it on air?
Mari from Salt Lake City, Utah writes:
Having birth control either covered by Medicaid or by one's health insurance will save our nation millions if not billions! But it's not enough to hand out birth control pills, etc. We need to educate women, especially the poor, undereducated women in our cities and rural areas. If poor women would use birth control responsibly we would cut the cost of welfare moms and, for the Pro-Life folks, cut the number of abortions. Pelosi is right!
Pete from New York writes:
Ah yes, the values of a rich white San Franciscan. Perhaps Nancy was looking across to Oakland and its poor people and she became uneasy. I hate to say it but this could fall into the category of racist comments if we could get her to describe the kind of person who is going to receive these condoms. What would the reaction be if someone in the GOP said we needed to stop the poor from breeding so that we can save money? This is a Democratic leader and not some flakey back bencher! What an embarrassment to the country.
Don from Ottawa, Canada writes:
She's right Jack! If we had enough sense to plan our families we wouldn't have so many mouths to feed, jobs to fill or kids to educate. It's these same "no to birth control" crusaders that are the first to criticize poor welfare families.
HD from Phoenix, AZ writes:
You must be joking? With all the hard challenges this country is facing, this is the best she can come up with to help stimulate the economy. The People's Socialist Republic of California needs to put a muzzle on that woman.
Melanie from Iowa writes:
She knows what she's talking about. As many of us remember during the barrage of Presidential commercials, many people with financial woes give up medicine first. Helping provide birth control is a cost saver to the government in the long run.
Mary from California writes:
Pelosi needs to mind her own business and stay out of Americans personal lives! Not only is it pork, but it is socialism.