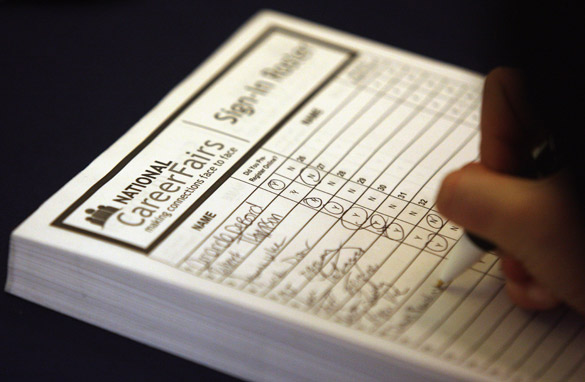 An unemployed Coloradoan signs up at a job fair in Denver, Colorado on January 22, 2009. Unemployment in the United States, now more than seven percent nationally, is at its highest level in many years.  (PHOTO CREDIT: GETTY IMAGES)
From CNN's Jack Cafferty:
If you want proof this recession has legs, you need look no farther than a series of announcements this Monday morning that companies continue to slash jobs right and left.
It started with construction giant Caterpillar announcing plans to cut 20,000 jobs.
Home Depot said they're cutting 7,000 employees and will close their high-end EXPO stores.
Sprint-Nextel said they are cutting 8,000 jobs.
And there are reports that Starbucks is going to slash 1,000 jobs. That's in addition to previously announced cuts.
There was also the announcement that pharmaceutical giant Pfizer is buying competitor Wyeth, a move that will cut more than 19,000 jobs.
And this afternoon GM announced plans to cut 2,000 jobs.
ING and Philips Electronics, both based in the Netherlands with employees in the U.S., plan to cut 7,000 and 6,000 jobs respectively. One estimate is that 56,000 jobs were cut today alone.
Last week it was Microsoft and before that Circuit City. These days just about everybody knows somebody who has lost a job.
The National Association for Business Economics, a trade group for private companies, says 39% of their companies plan to cut their payroll within 6 months.
Here's my question to you: How secure do you feel about your job?
Interested to know which ones made it on air?
Steve from Vernon Hills, Illinois writes:
Let me find one first, then I'll tell you.
Shayla from Tennessee writes:
I work in healthcare, and up until last week I felt pretty secure about my job. My company is trying to find new ways to cut the budget, and it's not looking good for many of my coworkers and me. I am already searching for a new job. Problem is so are thousands of other Tennesseans.
Doug from Dallas, Texas writes:
My "secure" job went bye-bye 11 months ago so the only job I have is finding a new one. Being over 60, that's not easy in today's economy. With so many people looking, recruiters pass over the experienced workers for the younger talent. My guess is it will stay that way for the next couple of years.
Dan writes:
So far I feel my job is secure. I own a coffee house in Denver, and so far coffee is still one of life's necessary pleasures. Maybe it makes looking for work easier.
Donna from Wisconsin writes:
I don't think anyone is secure about their job unless they work for the Federal or State Government. But what is really scary is where are all these people going to go when unemployment runs out, their house is foreclosed because they can't sell it or pay for it without a job and have no food, or healthcare? That's a lot of people on the streets.
Tim writes:
The bad news: my job exists to specifically cover recently expanded hours, so it's iffy. The good news: I'm a bartender, so if I get laid off consolation is available on the other side of the counter. You and Wolf should join me for a drink sometime. And bring Lou. We'll do a study of the liquid economy. Hell, do the show from the bar, we have CNN on all day anyway.