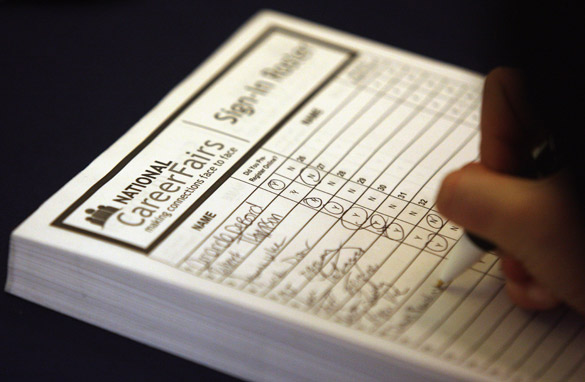 An unemployed Coloradoan signs up at a job fair in Denver, Colorado on January 22, 2009. Unemployment in the United States, now more than seven percent nationally, is at its highest level in many years.  (PHOTO CREDIT: GETTY IMAGES)
From CNN's Jack Cafferty:
If you want proof this recession has legs, you need look no farther than a series of announcements this Monday morning that companies continue to slash jobs right and left.
It started with construction giant Caterpillar announcing plans to cut 20,000 jobs.
Home Depot said they're cutting 7,000 employees and will close their high-end EXPO stores.
Sprint-Nextel said they are cutting 8,000 jobs.
And there are reports that Starbucks is going to slash 1,000 jobs. That's in addition to previously announced cuts.
There was also the announcement that pharmaceutical giant Pfizer is buying competitor Wyeth, a move that will cut more than 19,000 jobs.
And this afternoon GM announced plans to cut 2,000 jobs.
ING and Philips Electronics, both based in the Netherlands with employees in the U.S., plan to cut 7,000 and 6,000 jobs respectively. One estimate is that 56,000 jobs were cut today alone.
Last week it was Microsoft and before that Circuit City. These days just about everybody knows somebody who has lost a job.
The National Association for Business Economics, a trade group for private companies, says 39% of their companies plan to cut their payroll within 6 months.
Here's my question to you: How secure do you feel about your job?
Interested to know which ones made it on air?