From CNN's Jack Cafferty:
President Obama's hopes for broad bipartisan support for his $825-billion emergency stimulus package have been dashed.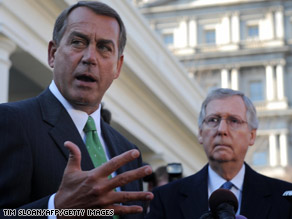 US House Minority Leader John Boehner (L)R-OH and Senate Minority Leader Mitch McConnell (R-KY) make remarks to the press outside the West Wing after their meeting with President Barack Obama today at the White House.
The President wants the emergency bill on his desk by President's Day. But there's an obstacle in the way: Opposition from Republicans that seems to be growing by the day. Now they are complaining they've been shut out of the process of writing the bill. They are pointing a finger at the Democrats for ignoring the President's call for bipartisanship.
We're in the middle of the worst economic crisis since the Great Depression. Voters made it clear they're sick and tired of partisan warfare in Washington. Is anybody listening?
Today President Obama met with GOP leaders to hear their concerns. House Republican leader John Boehner said he and his colleagues feel the package is too expensive and too slow. Republicans want tax relief in the hands of Americans right away.
The President said he would take the Republican concerns under consideration. White House Press Secretary Robert Gibbs said President Obama will go to Capitol Hill next week to meet with lawmakers and try to get this thing done.
My question to you is: Are Republicans making a mistake by opposing President Obama's stimulus plan?
Here's my question to you: Are Republicans making a mistake by opposing President Obama's stimulus plan?
Interested to know which ones made it on air?
Melissa writes:
The GOP got us all into this mess so they just need to shut their mouths and let the Democrats fix it.
Teri from St. Augustine, Florida writes:
They will not accept any responsibility for their actions in bringing our country into this mess. Their arrogance led us here; their egos won't let them change. They saw how well their plan of stopping any progress worked after their 2006 losses, now they are living with their 2008 losses, and they are still just 'staying the course'. Let's see how many more seats they'll lose in 2010 if they keep this up.
Joey from Yankee Lake, New York writes:
Not at all, it is full of pork. A lot of things in there are not stimulative. If the Republicans do not stand up, the Democrats will run away with all the money for their special interest. It's a mistake to have one side making all the decisions.
Jason from Oakland, California writes:
As a matter of policy, it's always a good idea to do something that the GOP opposes, unless they try one of those reverse psychology thingies.
John from Connecticut writes:
No! We all saw what happened when Democrats failed to stop the conservative movement across Washington, a liberal agenda can be just as detrimental.
Bruce from St. Paul, Minnesota writes:
Let me see if I have this right. The Republicans are ok with money for Wall Street with no benefit to the country at large. They favor keeping the tax cuts for the wealthy and lower capital gains taxes. But they would not be able to swallow a bill that tries to get money back to the poor peasants. Didn't they get the memo? The Reagan Revolution is over. We have been trickled down on enough.