From CNN's Jack Cafferty:
President Obama proclaimed that the U.S. will actively and aggressively seek lasting peace between Israel and the Palestinians.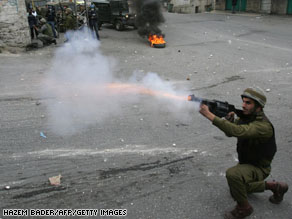 An Israeli soldier fires tear gas at Palestinian stone-throwers during a demonstration by Hamas supporters to celebrate what they called the 'Gaza war victory' following the weekly Friday prayers in the West Bank city of Hebron on January 23, 2009.
Last month Israel launched an attack on Gaza that lasted three weeks destroying buildings and claiming lives. A unilateral cease fire was reached last week, and President Obama has urged Israel to open its borders with Gaza.
The new President also announced that George Mitchell will serve as special envoy for Middle East peace under Secretary of State Hillary Clinton. Mitchell's credentials include negotiating the cease fire in Northern Ireland in 1998.
This is yet another break from the Bush administration that avoided appointing someone to the post.
Now former Secretary of State Condoleezza Rice negotiated a deal for open border crossings to Gaza back in 2005 but Israel often shut them down because of security concerns.
Israeli officials say they will not open the border if it, in any way, strengthens or legitimizes Hamas.
Here's my question to you: How should the Obama administration approach achieving peace in the Middle East?
Interested to know which ones made it on air?
Brian from Trinidad writes:
What is this, a joke now? Every President has said the same thing. What else are they going to say? They can't say the truth, which is that peace in that part of the world is hopeless, so let's do the next best thing. Make tons of money selling both sides weapons and technology and don't forget about contracts to American firms to rebuild the bombed out neighborhoods. Are you kidding me Jack? You of all people, taking those peace comments seriously?
Rick from Ohio writes:
I think it was a real 'stroke' to create a special position for this purpose, and bring in someone of George Mitchell's stature. My fear is that fanaticism will be a continuing obstruction. But, George Mitchell dealt with this before, and helped solve an 800 year conflict in Northern Ireland. We can all just hope and pray that he can pull it off again.
Bob from Oshawa, Ontario writes:
Jack, the Obama administration has to treat both sides with respect to its legitimate grievances. I believe that Israel has to be told that it simply can't say "No" to any reasonable proposal put forward just because it doesn't like Hamas. It's one of the many reasons why the Palestinians feel frustrated and why they retaliate with rocket launches into Israel. It's time that the U.S. and its allies stop being pro-Israel long enough to put some pressure on them to cooperate.
Kim from Dodge City, Kansas writes:
The Mid-East has been the cradle of violence since the dawn of time and you would think that by now the world would have grown weary of the caveman tribal mentality that permeates the cultures of the region. It's time the United States washed its hands of the whole affair and let these marginal societies eliminate each other without our interference. We have our own problems that deserve immediate attention.
Jayne writes:
The Middle East has been in turmoil since the beginning of time. If I had the answer to your question, I'd be the President of the United States. If President Obama somehow crafts a lasting peace we'll have to rethink the Messiah rumor that flew around the right wing blogs.