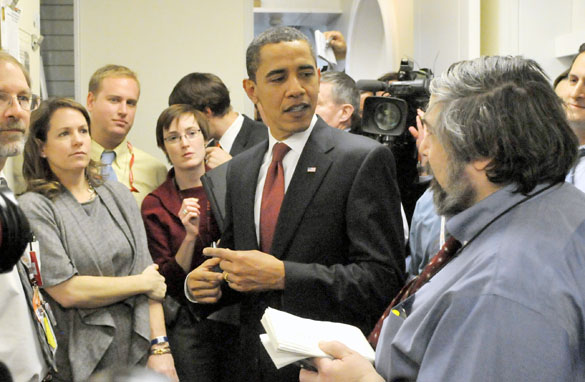 President Barack Obama took an impromptu tour of the White House press work area yesterday. The president made the surprise visit on his second full day in office. (PHOTO CREDIT: GETTY IMAGES)
From CNN's Jack Cafferty:
When President Obama made a surprise visit to the White House press room yesterday he was asked how he justifies his new policy banning lobbyists in his administration when his pick for Deputy Secretary of Defense lobbied for Raytheon.
President Obama said he just came to visit and this is what happens. He added that he wouldn't be able to stop around informally to visit if he gets grilled every time.
When the reporter from Politico pressed further the President got serious and, by some accounts, sounded irritated. He said, "We will be having a press conference at which time you can feel free to [ask] questions. Right now, I just wanted to say hello and introduce myself to you guys - that's all I was trying to do."
During the 10-minute visit, President Obama was also asked if he's been able to work out or play basketball. And the President asked some questions of his own about who sits where and so on, as he checked out reporters' offices, shook hands with members of the press corps and noted how small the space is.
Here's my question to you: Was it unfair to ask President Obama a substantive question during an informal visit to the White House press room?
Interested to know which ones made it on air?