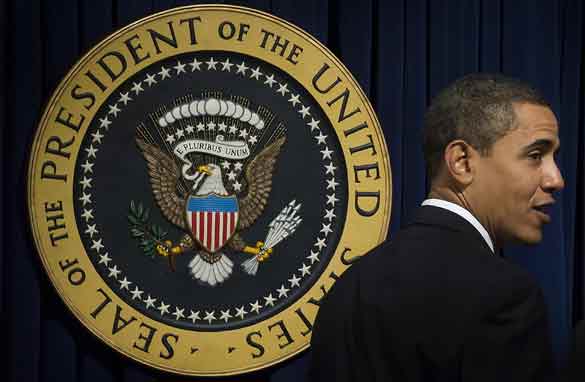 Where is President Obama likely to encounter the most difficulty early in his presidency? (PHOTO CREDIT: JIM WATSON/AFP/GETTY IMAGES)
From CNN's Jack Cafferty:
Every president gets a honeymoon period. Some are shorter than others. But with an approval rating in the 80s, President Obama has lots of political capital to spend and presumably a long time before he runs out of good will.
That being said, he's in a precarious position right from the start. We are in the midst of an economic crisis that no one seems to have a firm understanding of, and there are heated debates already about the best way to proceed when it comes to bailouts, spending programs, tax cuts, etc.
Then there are the wars. Pull out of Iraq and step it up in Afghanistan. What if Iran comes into Iraq as we leave through another door?
We haven't been attacked in seven and a half years, but terrorism is still a fact of life. Global warming, health insurance, pick something you like.
Nevertheless, the new president is off to a good start. And this time we appear to be in the hands of someone less inclined to shoot from the hip. But even President Obama's coolness under fire will be tested at some point… either by domestic politics or foreign affairs.
Here's my question to you: Where is President Obama likely to encounter the most difficulty early in his presidency?
Interested to know which ones made it on air?
Frank from Connellsville, Pennsylvania writes:
He will face his biggest challenge from his own party. The Democrats have been the "loyal opposition" for so long it only knows what it is against and not what it is for. The leadership change our country needs is not yet complete. We need to see a new chapter of congressional leadership elected to move us forward.
Daniel from Indiana writes:
Congress. That is where the most difficulty will come from. We have a Congress that is used to fighting just to fight. I have little faith in Harry Reid or Nancy Pelosi pushing bi-partisanship. I do believe that they will continue to push division, as will the Republicans.
M.A.C. writes:
Looks as if one area of difficulty may be the press corps. Why were they whining so much about the fact that even though they received pictures and audio on the oath re-do they weren't given a complete video? Much ado over nothing, in my opinion.
Earl from Florida writes:
The unemployment situation is without a doubt the most important and difficult task at hand. Creating jobs is paramount. Gainfully employed homeowners will take pressure off home foreclosures while simultaneously stimulating the economy. The world's problems can wait until we get our financial house in order.
Keietta writes:
His problem will unfortunately begin in his own back yard with individuals who want to continue dividing the lines between parties. It has already begun with the "Republicans" holding up the confirmation of the Presidents nominee for Attorney General.
Arthur writes:
President Obama will inevitably have to deal with the fact that, as he says, the economy will get worse before it gets better. People tend to have a selective memory, especially when it comes to their wallets, and when this economic crisis deepens he'll have to answer for its cause.
Jeff in Payson, Arizona
Rush Limbaugh, Glenn Beck and the nutz at Fox Noise