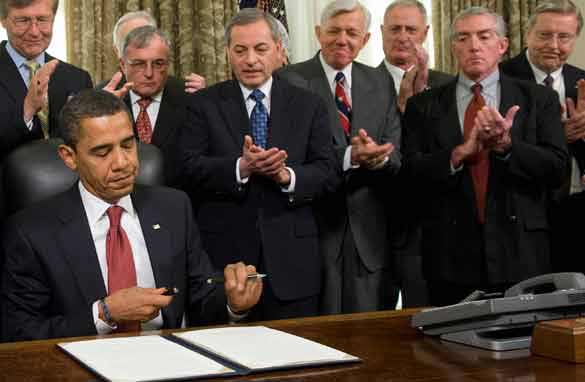 Can President Barack Obama change the culture of Washington? (PHOTO CREDIT: SAUL LOEB/AFP/GETTY IMAGES)
From CNN's Jack Cafferty:
President Obama didn't waste time before getting to work and making changes. As he promised on the campaign trail, he is determined to make a clean break from the policies of the Bush administration.
So far he's ordered the closing of the military prison at Guantanamo Bay within a year, ordered all cases of terror suspects be reviewed, and banned torture.
The new President also issued a freeze on the salaries of senior White House staffers and implemented new ethics rules for staff who leave their jobs.
He promised openness and transparency and instructed his team to follow his example. This is a sharp contrast to the secrecy of his predecessors where it seemed the entire eight years was based on executive privilege.
President Obama is moving at lightning speed in a town that usually moves at a snail's pace. He wanted an emergency economic stimulus bill signed before his inauguration but was told by lawmakers it will take until February.
Here's my question to you: Can President Obama really change the way business is done in Washington?
Interested to know which ones made it on air?
Jim from California writes:
President Barack Hussein Obama won't change anything. It will be business as usual. He has most of the Clinton administration back in power. He was using the term change just to get elected. He has been close personal friends with thugs before being elected and now we have more like Geithner who should be charged with tax evasion.
Raoul from New Orleans, Louisiana writes:
President Obama will be the first one to tell you, he does very little on his own. One of the reasons he went from near obscurity to win the nomination and the presidency was his management style and who he chose to surround himself with. He is inclusive and not afraid to listen to other points of view. The changes will be much easier with this frame of mind.
Asim writes:
You need to watch a bit more CNN Jack. He already has.
Linda from Bisbee, Arizona writes:
I doubt it very much.
Nancy from Tennessee writes:
Nancy Pelosi did say that the Congress will not adjourn for the President's Day holiday until they get the stimulus package signed into law. Thank goodness for this carrot to dangle over their heads to help speed up the process. This seems like politics as usual. Congress always wants something in return for doing the right thing.
Mike from Studio City, California writes:
If you mean can he change the culture of "government by the corporate interests and for the corporate interests," time will tell. I do think Obama has a better shot at wresting control of government from the greedy hands of the corporate class than any of his recent predecessors.
Kim from Dublin, Ohio writes:
Why not? The Republicans certainly did.