From CNN's Jack Cafferty:
President Obama issued three executive orders today that signal a sharp departure from the Bush Administration. One of them bans torture. It ends the CIA practice of so-called enhanced interrogations and requires the Army field manual be followed for terror interrogations.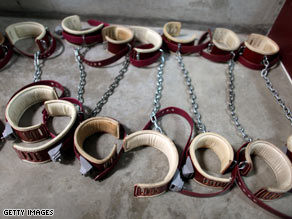 Leg shackles sit on the floor at Camp 6 detention center at the U.S. Naval Base in Guantanamo Bay, Cuba.
The Bush administration and intelligence agencies under Bush's command said the tactics were the only way to get information from suspects being held captive in the war on terrorism.
The techniques include forceful grabbing and slapping, forced standing for more than 40 hours while shackled and handcuffed, holding naked prisoners in a 50 degree cell while splashing them with cold water, and waterboarding which simulates drowning.
At one point the former CIA director and former attorney general both testified to lawmakers about the value of the practices.
Human rights organizations, of course, said the U.S. was out of line and said they were violating international laws.
It's been the subject of much debate since coming into practice in 2002 and now President Obama has put a stop to it.
Here's my question to you: Does forbidding so-called "enhanced" interrogation techniques send an invitation to enemies of the United States?
Interested to know which ones made it on air?
Sandy from Texarkana, Arkansas writes:
No invitation to our enemies but it sends a character portrayal to the entire world. Torture, otherwise known as "enhanced interrogation techniques", are unacceptable to humanity. My uncle was a POW in Japan and America should always take the high ground.
Larry from Oregon writes:
You have the question backwards. Enhanced interrogation invites terrorist extremists. Trying to say that we torture as a deterrent is just plain stupid. That's like saying the death penalty is a deterrent to murder. People who commit murder don't think about possible punishment at the time they commit the crime, they assume they will get away with it or they wouldn't commit it in the first place.
Jane from Wisconsin writes:
It shows how weak Barack Obama is. I suggest that the guys being held at Gitmo now be parked in Mr. Obama's neighborhood in Chicago or perhaps right next to the White House. Maybe they can be spread around and placed in the neighborhoods of the liberal congressman who want Gitmo closed.
Gigi from Alabama writes:
Hey Jack, call it like it is. The word is torture not enhanced interrogation. The Geneva Convention should always be adhered to. Anyone wanting to do harm to us really is not looking toward getting captured; they go into it thinking they are going to die for Allah and will be martyred.
Affy from California writes:
Jack, the only thing it invites is more diplomacy, more peace, more respect from other nations, and more progress towards becoming a more civilized nation. I don't know why it took us THIS long to do so.
Jeff from Oregon writes:
No Jack. We are inviting friends back to our side.