From CNN's Jack Cafferty:
Pulitzer Prize winning author Larry McMurtry says he doesn't see kids reading anymore and never sees them in his book store. He thinks we're witnessing the end of the culture of the book, and he may be right.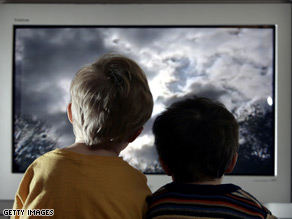 Kids in the U.K. spend an average of six hours a day looking at screens.
Kids in the U.K. spend an average of six hours a day looking at screens while watching TV, on the internet or playing video games, according to a new report by ChildWise.
The annual survey across the U.K. found that kids ages 5 to 19 spend only half an hour a day reading a book while they spend nearly 3 hours a day watching TV, an hour and a half on the internet and more than an hour playing games on consoles.
Many parents justify the time their kids spend online as necessary for school work. Wrong answer. Only 9-percent of kids said they looked up something for school the last time they logged on. Instead they are on social networking sites, chatting with friends, playing games and watching You Tube videos.
Some experts say the result could be a generation unable to compete in the adult world later in life because they lack essential reading and writing skills. Others warn this is a dangerous digital divide between parents and kids that is widening.
Here's my question to you: What's the risk of allowing children to spend six hours a day in front of computer screens?
Interested to know which ones made it on air?
Luci from Illinois writes:
I don't think it is a good idea. I think they should be doing math, reading, spelling, etc., out of their school books. We didn't have computers when I was a kid. The teacher went over and over things until the students understood and learned. It might help to go back to those times. I think we were so much better off.
Lou writes:
My kids have actually started reading more since they've discovered the internet and video games. My 14 year old son devours any written word about his games from strategy books to participating in blogs. My 12 year old daughter Googles every day. As a teacher, I used to worry about it until they both started testing at well above grade level in reading comprehension.
Karen writes:
Kids today have no imagination or much ability to think for themselves. Their brains have been replaced with instant access to any bit of trivia they can find on the computer. They have no knowledge of research, spelling, grammar, or composition (the computer does it for them) and most of them can barely read. I respect the parent who monitors his child's computer use and teaches him to enjoy books.
Gerry from Toronto, Canada writes:
Computers and the internet are not going away. The problem isn't the kids being on for 6 hours per day, it's the parents aren't sitting beside them and training them what to do, what the guidelines are and how to properly use these resources. Some of the best reading, writing and arithmetic lessons are on-line, but useless if the parents aren't giving the kids proper guidance or setting proper rules.
Hope from Madisonville, Kentucky writes:
My 13 year old daughter is on the honor roll. She does her homework as soon as she gets home. She watches 1 hour of television and spends her down time either texting friends or on the computer. Either way, she is writing and reading as she uses the computer. She also skate boards and roller skates. It's a matter of balancing the time you have between sedentary and active activities.
Roy from Chicago, Illinois writes:
It is ironic that someone in the media is asking this question, as the proliferation of the media in our lifetimes is the cause of this problem.