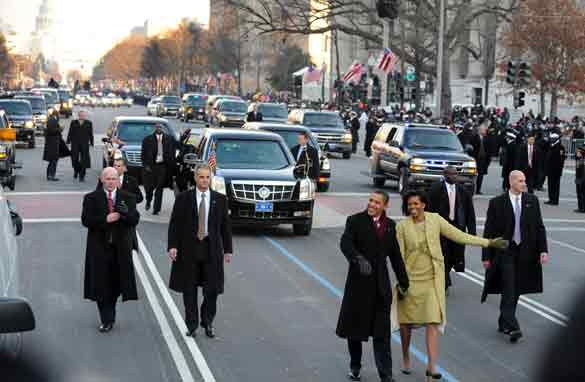 US President Barack Obama and his wife Michelle wave to supporters as they walk along Pennsylvania Ave during the parade following his inauguration as the 44th president of the United States. (PHOTO CREDIT:ROBYN BECK/AFP/GETTY IMAGES)
From CNN's Jack Cafferty:
Most of them want to do it. Presidents during the inaugural parade often like to be outside the confines of their bulletproof, bomb proof, everything-proof limousine the Secret Service lovingly calls "The Beast."
It gives them a chance to get closer to the people, who in many cases, have traveled far and endured a certain amount of hardship for the slight chance they'll get to see the President, up close and personal.
Jimmy Carter was the first to do this in 1977.
When the nation's new first couple exited the car yesterday, people began screaming and cheering along the parade route. It was like Elvis had suddenly appeared in the middle of Pennsylvania Avenue.
And while the Obamas appeared relaxed and enjoyed the interaction with the crowd, don't kid yourself. For the Secret Service, it was a very tense time. When he's exposed like that, they can't guarantee his safety.
You could almost hear the collective sigh of relief when our new President decided to return to the safety of the presidential limousine.
Barack Obama lives inside the Presidential bubble now, and he doesn't have the freedom he enjoyed prior to noon yesterday when he became the leader of the free world.
Here's my question to you: Was it brave or foolish for President Obama to leave the limo and walk several blocks during the inaugural parade?
Interested to know which ones made it on air?