From CNN's Jack Cafferty:
Barack Obama is hosting the party of a lifetime, and it seems that there's no penny pinching going on in spite of the recession.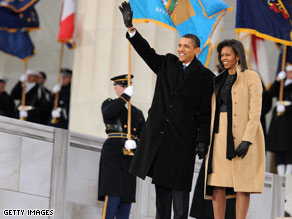 US President-elect Barack Obama and his wife Michelle wave during yesterday's 'We Are One' concert, one of the events of Obama's inauguration celebrations.
Estimates are that total costs for Obama's inauguration celebration could reach, or even exceed, $160 million. Obama has raised an estimated $41 million to help cover the costs of things like the train ride from Philadelphia to Washington on Saturday, and the star studded concert featuring U2, Beyonce, Bruce Springsteen and others yesterday. There's also the actual swearing in ceremony tomorrow with a price tag of $1.24 million and 10 official inaugural balls. Not to mention the cost of security and those 5,000 port-a-potties.
Four years ago, Democrats warned President Bush about an extravagant inauguration calling it inappropriate during a time of war. Today, the wars in Iraq and Afghanistan continue, the unemployment rate is the worst since 1945, consumer confidence is down along with the stock market and companies announce daily they are laying off people, closing stores or going out of business altogether.
But not a peep from the Democrats about the costs of Obama's inauguration. See, he's one of theirs.
And if you want to lose your appetite for dinner, consider this. The biggest donors for the inaugural festivities are recently bailed out Wall Streeters. Is this a great country or what?
Here's my question to you: In light of the sour economy, does an extravagant inauguration celebration send the wrong message?
Interested to know which ones made it on air?
Claudia writes:
An extravagant inauguration sends a message around the world that we may be down but don't count us out.
Dawn from Sellersville, Pennsylvania writes:
Extravagant yes, but well worth the effort. This is a glorious event I never thought would come to pass. As a black woman, I've noticed since the morning after the election there has been a subtle change in our society. People actually speak to each other. I can't tell you how many people make a point to have eye contact and say good morning or good afternoon. The message that is being sent is a new beginning for our great country. The world is envious and I am proud.
Gigi writes:
It makes me sad with our government and economy in such a mess. With American children going to bed hungry and cold it does seem outrageous to me. This weekend we compiled food boxes for our poor. It reminded me of France when the Royalty dared to dance, eat and sing. And Queen Marie was told the people had no bread and she "said then let them eat cake".
John from Fort Collins, Colorado writes:
Barack Obama's grand and elaborate inauguration festivities are a positive way to capture public attention and set the stage for the implementation of his new agenda for the country. I feel it is fitting to have a brief holiday from all the dire news, economic and otherwise, to enjoy the festivities and celebrate this moment in history. It is money well spent. Early on Wednesday morning the hard work will begin.
Karl from San Francisco, California writes:
After 8 years of the Bush administration, it isn't an extravagant inauguration, its intense mental health therapy for a few days and we need it.