From CNN's Jack Cafferty:
Home foreclosures were up a record 81% in 2008…that's a 225% increase since 2006. If that doesn't get your attention how about this: more than 3 million foreclosure filings were issued last year and more than 860 thousand families lost their homes.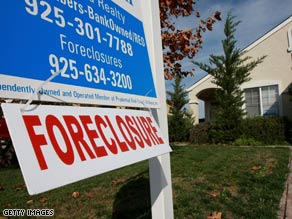 Should the government be doing anything to help homeowners?
Some say that number is on the low side, and this year things may get worse. Efforts to stop or even slow the crisis have failed. The two government- sponsored mortgage companies, Fannie Mae and Freddie Mac, temporarily suspended foreclosures at the end of November. But foreclosures in December were higher than in November. The experts are now predicting we could see another 3 million foreclosures this year.
The rest of the problem is tied to collapsing prices. The S&P/Case-Shiller Home Price Index says home prices have dropped 21% on average nationally from their peak, and in some of the worst hit areas, like Phoenix, they've dropped as much as 40%. What this means in many cases is that people who can no longer make their mortgage payments also cannot sell their house for enough to pay off their mortgage. The houses are worth less than what is owed on them.
Here's my question to you: What should the government be doing, if anything, to help homeowners?
Interested to know which ones made it on air?
Dina from Ashland, Virginia writes:
Right now, my husband and I are working, so we can pay our mortgage. But who knows what the future holds? I'd like the government to mandate that mortgage companies be more flexible when homeowners have to deal with the unexpected like unemployment, death of a spouse, and illness. The first course of action should not be foreclosure.
Barbara from North Carolina writes:
Why should we all have to pay for the mistakes those homeowners made? Some of us rent, we get hit with the taxes and the ones who made mistakes get our money. Where's my payment for not going in over my head?
Ron from San Diego, California writes:
Hi Jack: Instead of giving the money to the banks. The federal government should offer refinancing directly. A direct loan program for distressed homeowners at a low fixed rate. That way their payments would be a lot lower. In addition, they would not be in danger of losing their house.
Barry from Granger, Indiana writes:
As a realtor that works with people going into foreclosure in Northern Indiana, the big need is for job creation right now. Elkhart County has an unemployment rate of 12.4% due to lack of manufacturing jobs right now. Other than jobs, I would like to see a loan modification system that makes sense for owner occupants, not for the person whose summer beach house is in foreclosure. The banks need a clear system. Most everybody I come in contact with that is in foreclosure tells me that the bank will not work with them.
Linda from Charleston, South Carolina writes:
Mandatory refinancing of ARM mortgages that should not have happened in the first place.
John writes:
Jack, Why not give each eligible voting Americans $250,000. Tax them on it. Create a mandatory mortgage payoff and purchase of an American automobile. Instant stimulus package. Why give more money to people who screwed it up the first time?