From CNN's Jack Cafferty:
House Minority Leader John Boehner sent a clear message yesterday to President-elect Obama that he is far from having the support he and the Democrats need to pass the 825 billion dollar emergency stimulus bill.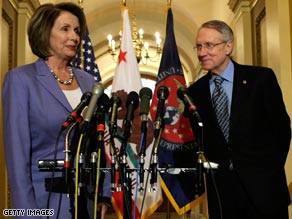 Why aren't there any Republicans in this photo?
The sticking point: The plan was crafted by Speaker of the House Nancy Pelosi and her Democratic colleagues without Republican input.
Obama has been pushing for bipartisan support and an end to 'politics as usual' in Washington. The country is in the midst of an economic crisis with no end in sight and the President-elect has warned of dire consequences if nothing is done. But Democrats and Republicans seem unable to put their differences aside and work fore the common good.
And it's a little more than egos and arguing for argument sake. Boehner says the Democrats are operating on "the flawed notion that we can borrow and spend our way back to prosperity."
Some conservative Republicans are uncomfortable with the hundreds of billions of dollars of spending in Obama's plan. Some Democrats don't like the amount of spending as compared to tax cuts in the bill, and there's skepticism whether the business tax cuts will really create the jobs they're supposed to.
Here's my question to you: Why can't the Democrats and Republicans work together instead of against each other?
Tune in to the Situation Room at 4 pm to see if Jack reads your answer on air.
And, we love to know where you're writing from, so please include your city and state with your comment.