From CNN's Jack Cafferty:
President-elect Obama is committed to ending the "don't ask don't tell" policy that prohibits openly gay men and women from serving in the military.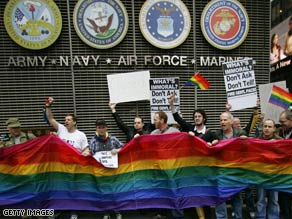 Should "don't ask, don't tell" be overturned?
He campaigned on this, and a spokesman reiterates it on a new video posted on the change.gov web site.
Commitment aside, the spokesman elaborated on his comments to add that the President's first priority is jump starting the economy.
Not to mention that overturning the policy requires legislation from Congress. President Clinton tried to overturn it when he took office in 1993 but opposition from military leadership prevailed.
Ret. General Colin Powell, who was the chairman of the joint chief of staffs at the time, has said Congress should review the policy because attitudes have changed since it was passed more than 15 years ago.
In an attempt to create a loophole of sorts, a bill was introduced during the last session of Congress to implement "a policy of nondiscrimination on the basis of sexual orientation" but it never came up for a full House vote. So that bill and Obama's commitment to overturn the policy remain on the back burner, at least for now.
Here's my question to you: Is it time to end "Don't ask, don't tell" for gays in the military?
Tune in to the Situation Room to see if Jack reads your answer on air.
And, we love to know where you're writing from, so please include your city and state with your comment.