FROM CNN's Jack Cafferty:
Timothy Geithner, the president of the Federal Reserve Bank of New York and Obama's pick for Secretary of Treasury, hit a road block yesterday on his path to Washington to lead the nation through the current economic crisis.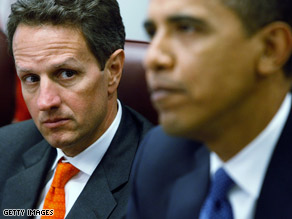 Geithner's confirmation hearing is now rescheduled for after the inauguration.
His confirmation hearing turned into a closed door meeting between members of the Senate Finance Committee and the would-be Secretary. At issue, were Geithner's failure to pay Social Security and Medicare taxes while he worked at the International Monetary Fund and employing an immigrant housekeeper who had expired work papers for three months.
The President-elect and his aides chalked these problems up as honest mistakes. They were quick to point out that all back taxes, interest and penalties have been paid and filings were amended.
As Treasury Secretary, Geithner will ultimately oversee the IRS, so his tax mistakes conceivably could be an issue.
Some members of the committee said they still support Geithner, who's been widely praised for his experience. Others aren't willing to give him a pass just yet.
As for the housekeeper, she's married to an American and has her green card now.
Geithner's confirmation hearing is now rescheduled for next week, after the inauguration.
Here's my question to you: Should Timothy Geithner's tax and housekeeper problems cost him the post of Secretary of Treasury?
Interested to know which ones made it on air?
Dan from Chantilly, Virginia writes:
I couldn't care less about the housekeeper thing, but the failure to pay taxes, that's a bit of an issue. An "honest mistake" is something that Joe Schmo everyday American does on their taxes. A guy like Geithner who is supposed to be a financial guru doesn't make "honest mistakes" on tax forms.
Claudia from Houston, Texas writes:
If the economy and war didn't cost President George W. Bush his job then Geithner's confirmation should be smooth sailing. Our so called "value" system is almost too low to go cherry picking anyone.
Gerald from Queens, New York writes:
If the IRS told me that I owed them additional monies, I think I would get the message on the first notification. On the fourth notification I think the IRS would be thinking of jail time for me. This is not an honest mistake by a long shot. It's only honest when a politician is involved.
Sandy from Knoxville, Tennessee writes:
From what I understand, he has unique experiences that make him valuable for the success of the Obama team. These are extraordinary times and we need all the help we can muster.
Jane from Milwaukee, Wisconsin writes:
Geithner was trying his very best not to pay taxes. He knew there was a possibility because of the six year statute of limitations; he might get away with 2001 and 2002. He's another crook.
Debra writes:
Geithner's taxes are current and his housekeeper is married to a United States citizen. What is the big deal?
Connie from Indiana writes:
Jack, since he will be over the IRS, is that like the fox guarding the hen house. I guess if he does not make it for treasury they can put in charge of immigration.