From CNN's Jack Cafferty:
Senator Hillary Clinton intervened 6 times in government issues that directly affected companies or individuals who became donors to her husband's foundation, according to the Associated Press.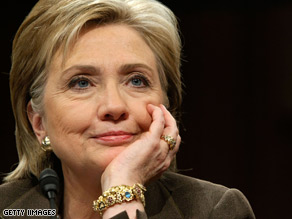 Should the Clinton Foundation's ties to foreigners affect Hillary Clinton's nomination?
This raises obvious questions about the potential for ethical conflicts that could arise in her official business as Secretary of State. Christopher Hitchens at Slate.com calls into question whether Hillary Clinton should have been nominated for the post at all.
The article points out that everyone around the world knows that you can get the former president's attention through his foundation. Not a problem in itself but when you factor in that he's the confidant to the would-be Secretary of State, someone she's sure to rely on since she has no foreign affairs track record of her own, it can become one.
The foundation has agreed to disclose its list of confidential clients and every year new donors from foreign states could be subject to the scrutiny of Obama administration lawyers.
Here's my question to you: Should the foreign financial affairs of Bill Clinton's foundation be enough to prevent Sen. Hillary Clinton's confirmation as Secretary of State?
Interested to know which ones made it on air?
Mike from Syracuse, New York writes:
No Jack, but Mr. Bill should decline any foreign contributions while she is Secretary of State.
John from Fort Collins, Colorado writes:
The Clintons are absolute masters at pushing all their dealings just past the edge, then moving on without blinking and without consequences. This is just the skill set a Secretary of State needs to play international poker with today's world leaders. It would be a poor fit if Hillary were just a nice stay-at-home mother who liked to bake cookies.
Frank from San Jose, California writes:
We don't deny people positions because of potential for wrongdoing; if we did that, no one would get hired anywhere for anything. If Hillary is the best person for the job, she should get it. We should all assume that she will perform her duties ethically unless proven otherwise. It is our duty as the voting public to watch her, as it would be for any other public official. We can't condemn her for something that hasn't happened.
Stan from Barrie, Ontario writes:
It depends on whether you want someone that's up to the job or simply someone who has no external complications. If Hillary can keep Bill's affairs (excuse the terminology) apart from her decisions related to foreign policy there is no reason why she shouldn't be confirmed.
Lane from Nashville, Tennessee writes:
Let me understand this, if she had been elected President, this wouldn't be an issue, but she's not able to be Secretary of State, because her husband does charity work?
DF writes:
The issue is not impropriety, or the appearance thereof, it is the conflict of interest itself. For anyone to have a conflict of interest and deny that it will influence his or her behavior is purely narcissistic. The Greeks called it hubris. It is the core evil of our system of government. Senator Clinton will be confirmed specifically because congresspersons do not want attention to be drawn to their own conflicts of interest.
Gail from Centre, Alabama writes:
I can't think of a better person to be secretary of state. Jack you are just looking for something to grunt about. You don't like the Clintons, and you would like to see her fail.