FROM CNN's Jack Cafferty:
The Pentagon says 61 former detainees from the U.S. military prison at Guantanamo Bay have resumed what they call terrorist activities since their release.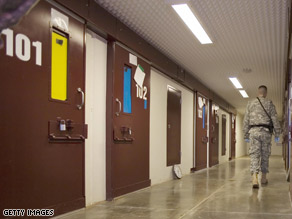 A guard stands his position at Camp V on the US Naval base at Guantanamo Bay, Cuba.
President-elect Obama says he'll close the prison as soon as his first week in office. He admits there are issues to work out if he does so, primarily the threat that the suspects still in custody there pose to the safety of the American people. There are about 250 of them including 2 of the alleged conspirators of the 9/11 attacks. They can't simply be released.
Perhaps the Pentagon is trying to emphasize that very point with the information they released. But it lacks details like what actions the detainees have taken since their release, where they are now and why they were released in the first place. Human rights advocates are skeptical of the report.
President-elect Obama's haste in closing the prison is an attempt to make a clean break from the Bush Administration's war on terror. Yesterday, when asked about Obama's plans to close Guantanamo, President Bush told CNN's Larry King that signing the paper is one thing but actually doing it is more involved. President Bush said he wants the base closed too, but it's a complex matter.
Here's my question to you: If President-elect Obama closes the Guantanamo Bay prison, what should be done with the inmates there?
Interested to know which ones made it on air?
Tony from Torrington, Connecticut writes:
Re-open Alcatraz and keep them there. Perhaps some can be re-located to the San Francisco or Los Angeles County Jails. California has many facilities, and it's so close to Hollywood, where the inmates can be entertained. I know that the Hollywood crowd would love to visit and make sure they are being treated like celebrities. Problem solved.
Bob from Baltimore, Maryland writes:
Jack, the answer is simple, if they must be incarcerated until hearings can sort out the mess, there is nothing at Gitmo that Leavenworth doesn't already have; unless you count the CIA spooks that can torture at free will and the special Water Board Suite.
Robert from Tennessee writes:
Send half of them to Crawford, Texas and the remaining half to Casper, Wyoming.
Iris from Saugatuck, Michigan writes:
Personally Jack, I'm a proponent of the Terrorist Relocation Program known as ALARM: "Advanced Liberals Accepting Responsibility for Martyrs" program. These Gitmo freedom fighters would be delivered free of charge to the homes of tolerant liberal citizens where they could continue their righteous plan of bringing about the demise of the villainous United States in the comfort of culturally sensitive homes of like-minded left-wing individuals.
Gina from Racine, Wisconsin writes:
If we have enough evidence against them to prosecute them then we should. If we have no evidence against them then we should let them go. We cannot hold these people indefinitely if they have not committed a crime.
Ira from Roslyn, New York writes:
Put them to work under heavy guard at the rebuilding of the twin tower museum. Then when it's finished put them in the museum.