FROM CNN's Jack Cafferty:
Timothy Geithner, the president of the Federal Reserve Bank of New York and Obama's pick for Secretary of Treasury, hit a road block yesterday on his path to Washington to lead the nation through the current economic crisis.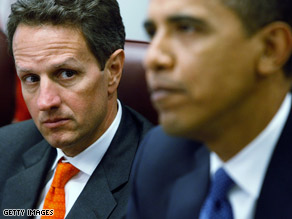 Geithner's confirmation hearing is now rescheduled for after the inauguration.
His confirmation hearing turned into a closed door meeting between members of the Senate Finance Committee and the would-be Secretary. At issue, were Geithner's failure to pay Social Security and Medicare taxes while he worked at the International Monetary Fund and employing an immigrant housekeeper who had expired work papers for three months.
The President-elect and his aides chalked these problems up as honest mistakes. They were quick to point out that all back taxes, interest and penalties have been paid and filings were amended.
As Treasury Secretary, Geithner will ultimately oversee the IRS, so his tax mistakes conceivably could be an issue.
Some members of the committee said they still support Geithner, who's been widely praised for his experience. Others aren't willing to give him a pass just yet.
As for the housekeeper, she's married to an American and has her green card now.
Geithner's confirmation hearing is now rescheduled for next week, after the inauguration.
Here's my question to you: Should Timothy Geithner's tax and housekeeper problems cost him the post of Secretary of Treasury?
Interested to know which ones made it on air?