FROM CNN's Jack Cafferty:
Reality is sinking in for President-elect Obama as he comes to terms with the fact that all of his campaign promises can't be accomplished right away, some of them not at all.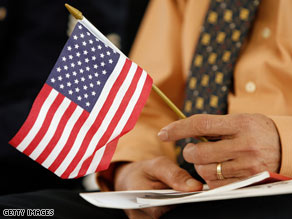 What are you willing to do?
It's a matter of priorities, political maneuvering and money.
The economic crisis is so serious that raising taxes on the wealthy, giving homeowners a 10% tax credit, and not running up debt for future generations are all going to have to wait, at least for now.
Obama is expected to be the President of change but at the moment things need fixing.
On the campaign trail, Obama said fixing the economy would be a priority. Since then the situation has gone from bad to worse.
The President-elect is desperately trying to get support for an emergency stimulus package before he's even sworn in.
President-elect Obama has made it clear that everyone must step up to the plate. He's asked Americans to, "embrace a new spirit of service, a new spirit of sacrifice."
Here's my question to you: President-elect Obama has called on us to make sacrifices for our country. What are you willing to do?
Interested to know which ones made it on air?
Teri from St. Augustine, Florida writes:
I've been cutting the grass of the homes around me that are in foreclosure and yes, I admit it helps my property values too. I've also picked up garbage in the streets. I've donated more to the local food bank. When Obama was running for President he said he can't do it alone and we all must change. I'm waiting to see what he has in mind.
Rex from Portland, Oregon writes:
I am willing to supervise, criticize, and analyze to the extent of severe sacrifice, just like everyone else.
Kathy from Chicago, Illinois writes:
Well I am already bailing out banks, Wall Street and the auto industry. I pay my bills on time, I have not defaulted on my mortgage, I have not lived off my credit cards or gone on extravagant vacations. I have sacrificed all my life all for nothing. Doing the right thing gets you nowhere. You screw up and the government bails you out. You do things right and the government screws you over. I am not asking the government to do anything for me, so the government shouldn't be asking anything of me. I am tapped out!
Paulette from Dallas, Pennsylvania writes:
I am willing to conserve energy, water, and go more green. I am also willing to donate to charities that directly help the people in need. I am also willing to volunteer at shelters and food kitchens. I am also willing to forgo some luxuries for myself in order to be able to help my recently unemployed son and his family.
Shelly from New York writes:
I think a lot of us have done enough. I think its time that government gets its act together.
Matt writes:
Most every American has lost significantly over the past 8 years, so to complain of 'nothing more to give' is selfish and counterproductive. A responsible American consumer, spending intelligently and managing debt, is the first step toward returning to economic solvency; I am thus prioritizing my spending and lifestyle choices accordingly.