FROM CNN's Jack Cafferty:
President Bush gave his last scheduled news conference yesterday and now plans to give a farewell address to the nation on Thursday night at 8pm. He's asked the networks to give up some of their coveted prime-time schedules for it.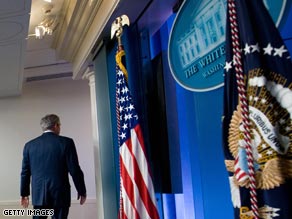 President Bush plans to give a farewell address on Thursday night.
He will deliver the 15- minute speech in the East Room of the White House in front of a live audience of "courageous Americans."
According to the White House press secretary, the President is expected to reflect on his 8 years in office and how the country has changed during that time. He will defend his record but will also share his thoughts on the greatest problems facing the nation and what it takes to meet them.
There's no law about if, how and when Presidents say good-bye as they leave the White House. Past Presidents have done so on Capitol Hill, in newspapers, from the White House, or not at all, as was the case with Bush 41 before Clinton took office.
Here's my question to you: What would you like President Bush to say in his farewell address to the nation Thursday night?
Interested to know which ones made it on air?
Anj from California writes:
Didn't we already hear his feeble attempt to rewrite his presidency at yesterday's press conference? I'd like him to keep this one to one word, "goodbye".
Mitchell from Arkansas writes:
That he had to cancel for lack of interest.
Jann from Brunswick, Georgia writes:
"I'm leaving five days early."
Al in Iowa writes:
If this man had half a brain or a fragment of a conscience, he would apologize to the families of the 100,000 dead Iraqis whose blood is on his hands instead of twisting the truth into a web of lies and distortions to create for himself a fictional legacy.
Keith from Cleveland, Ohio writes:
Jack, I think we have all misunderestimated him. He is to be commended for having a mind of his own and a language of his own. Do they teach English in Texas? Forget the farewell speech. I know less after his speeches that I did before.
Paul from Columbia, South Carolina writes:
"I tried to clean up the dangers and financially irresponsible policies created and left by Carter and Clinton, but there just wasn't enough time".
Sandra in Texas writes:
I do not care what he says and I will not be watching. After living through eight years of 9/11, Katrina, the Iraq debacle, warrant less wiretapping, torture, etc. and finally the worst financial meltdown since the Great Depression, I just want him to Go Away. Don't say Good-bye, just GO.
Joe writes:
I'd like to here W say, "wow, I really had no business being here. My bad."