FROM CNN's Jack Cafferty:
President-elect Barack Obama was asked if he plans to appoint a special prosecutor to investigate certain Bush administration policies, most notably, wiretapping and torture.
In an interview on ABC, Obama seemed to waiver on an answer. You may remember that as a candidate he condemned these practices and called them unjustified. Now he said he hasn't decided what he'll do.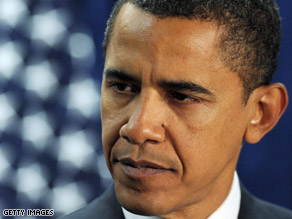 The President-elect said he's not likely to launch a broad investigation into treatment of terrorism suspects and eavesdropping under the Bush administration. But He did say that prosecutions will proceed if the Justice Department finds that laws were broken.
President-elect Obama said it's more important to look forward than back. Is it?
Mr. Obama is walking a fine line. He's trying to establish trust and make friends at the CIA and with conservatives in Congress. Both groups oppose an investigation into the Bush practices. But there is also pressure for the Bush administration to be held accountable, and there's already a measure in the house to create a commission to investigate detention and interrogation techniques under the outgoing administration.
Here's my question to you: What should President-elect Barack Obama do when it comes to a broad investigation of Bush administration policies such as eavesdropping and torture?
Interested to know which ones made it on air?
Paul frpm Brooklyn, New York writes:
If Obama believes that the Constitution is worth more than the paper it's written on then all who knowingly and willingly violated it must be dealt with. If our constitution can be savaged as it has been for the last 8 years with no consequences what does that say about us as a society? I contributed to, campaigned for and voted for Barack Obama. If he wants to prove me wrong, all he has to do is look the other way and ignore all the "High Crimes and Misdemeanors" of the Bush Cheney administration.
I.J. writes:
I admire the vigilance and perseverance of the Bush administration in preventing another attack. People who object to the wire tapping "might" have something to hide, and objecting to aggressive interrogation in time of war is self-destructive. Which is the lesser of two evils: infringing on the constitution or the loss of life of 9/11?
Jeremy writes:
I 100 percent agree with Obama that we should, as a country, look forward and not back. However, this country and its citizenry were wronged by several policies and practices of the current administration. If we will not hold our own government accountable to the ideals of individual liberties that we encourage other countries to practice, then how can we move forward?
Eric writes:
President Ford had it right you have to get rid of the past before you can move on. He pardoned Nixon and the country moved on. President Obama has to stop any investigation before it begins. He can not waste his administration's time and effort on some sort of revenge on the Republicans or President Bush. To really go forward he might consider a pardon.
S writes:
It took 8 years for this country to get this far off course, the hijackers are still on board and Obama doesn't even have the helm yet. The American people have basically demanded accountability. I think they'll get it in due time. There's no telling what we'll find once the curtains are pulled back and daylight filters back into all the "undisclosed" locations.