FROM CNN's Jack Cafferty:
There are now more obese Americans than those who are merely overweight.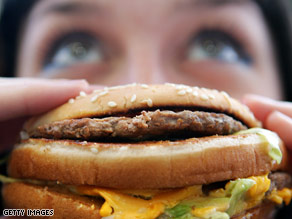 A new Federal report says that 34% of Americans are now obese.
A new Federal report says that 34% of Americans are now obese as compared to the 32.7% who are overweight. More than one third of all Americans, 72 million people, are obese.
Among the objectives set forth by the Department of Health and Human Services for the year 2010 is to reduce obesity to less than 15% of the adult population. To say they've got their work cut out for them is a gross understatement. It's now 2009 and the numbers are moving in the wrong direction.
The rising rates of obesity aren't new. As a nation, we've been getting fatter and fatter for years. Health officials have warned us that obesity increases the risk of heart disease, diabetes, cancer and other illnesses. The message is clear, eat healthy and exercise. But we don't listen and rather than shedding the pounds people are putting more on.
Here's my question to you: What does it mean that more than a third of Americans are obese?
Interested to know which ones made it on air?
JR from Norfolk, Virginia writes:
It means the United States is a very wealthy country with a population, although lacking in self-discipline that have the freedom and responsibility to eat too much and get fat. Don't over think everything, Jack.
Erin from Healdsburg, CA writes:
It's not just poor food choices, it's the desk jobs that we all have these days. Life for many didn't used to be like that. Now we are all chained to our computers.
Beth from Waco, Texas writes:
No one seems to touch on the fact that the food which directly contributes to obesity is the cheapest to buy and the most filling. All food is expensive in the super markets today, but potatoes, chips, pasta, bread, corn, fatty cuts of meat, etc., are cheaper than lean meat, fresh vegetables and fruit. It costs a whole lot more to live and eat healthy than it does to eat processed carbs, and when money has to stretch so far in today's economy, healthy eating is taking a back seat.
Sharon writes:
Jack: Our new President is gonna have a lot of work to do, no doubt, but we are gonna have to help him "trim the fat." He works out six days per week. What's wrong with the rest of us? The Bushies trimmed all of the fat out of our wallets, just saw my 401K, it's hard to eat without money. But we now all have a chance to start over, get healthy, save more money, cook more often, and live longer. Just say no to obesity. Happy New Year!
Caroline writes:
If there are stiff taxes on alcohol and liquor to deter over-consumption, why not a junk food tax. We can use the revenue to fund PE and proper health education in schools.
Don from Fort Gratiot, Michigan writes:
We just don't get off our butts enough anymore. We use our vehicles to drive everywhere, we won't even get out of them to get our take-out anymore, we wait in the drive-thru cause its easier. In a few years that 34% will be 50%.
Tom from Germantown Hills, Illinois writes:
It means there are too many of us sitting on our fat behinds watching you.