FROM CNN's Jack Cafferty:
Bernie Madoff, accused of stealing $50-billion from investors, will be allowed to remain free on bail thanks to the misguided sense of justice of U.S. Magistrate Ronald Ellis. Well, not exactly free. Madoff's under house arrest in his $7-million Manhattan Penthouse apartment while awaiting trial.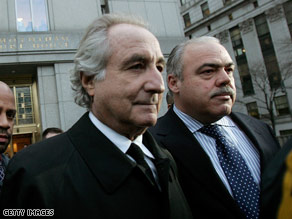 Should Madoff be in jail right now?
Last month Madoff allegedly confessed to masterminding a $50-billion Ponzi scheme that cost countless victims their life savings and badly wounded many of the nation's charities. Today's decision came after prosecutors charged that Madoff violated his bail by sending millions of dollars worth of jewelry to family and friends to keep it out of the reach of his victims.
People arrested for selling a few bags of dope in New York City are often sent to rot on Riker's Island until their trial. But Bernie Madoff is spending his days in his $7-million penthouse while his lawyers build his defense and his victims wonder how to pay their bills. Only in America.
Here's my question to you: Does accused $50 billion swindler Bernard Madoff belong in jail until his trial?
Interested to know which ones made it on air?
Stephen writes:
No, bail is designed to prevent flight risk and danger to the public, not revenge.
Charlie from Belen, New Mexico
Come on Jack. We all know that if you steal enough you won't go to jail. Steal a $500 car and you go to jail. Steal $50 Billion and ruin the live of thousands, you will never spend a day in the slammer. The rich and politically connected are above the law.
Rose from Arizona writes:
Of course he belongs in jail, he admitted his actions and for him to have the gall to send jewelry to family and friends is absurd, it belongs to the people he swindled. The action of the court and Judge are unforgivable.
L writes:
At the risk of sounding trite, jail is too good for him. But it will suffice in the interim, until he goes to hell.
John writes:
Oh, Jack, I'm sure this last little mistake about sending millions in jewelry and money to family and friends has taught Mr. Madoff a lesson. He may even have found God by 7 p.m. tonight. Hmmm. You don't suppose he has access to a computer in his penthouse do you? Ah, but I bet he doesn't know how to transfer funds from one account to another.
Jerry from Jacksonville, Florida writes:
There are probably a million inmates in the U.S. that are there for stealing less than 5 thousand dollars and this worthless jerk stole billions. Not to mention that there have been two suicides because they lost their entire life savings and this worthless piece of garbage is living in a $7 million penthouse.
Brian from Fort Mill, South Carolina writes:
They need to lock him up in a cell, and throw away the cell!