FROM CNN's Jack Cafferty:
President-elect Barack Obama was asked if he plans to appoint a special prosecutor to investigate certain Bush administration policies, most notably, wiretapping and torture.
In an interview on ABC, Obama seemed to waiver on an answer. You may remember that as a candidate he condemned these practices and called them unjustified. Now he said he hasn't decided what he'll do.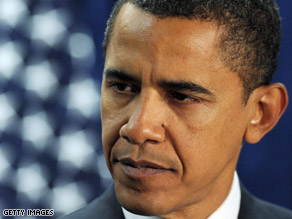 The President-elect said he's not likely to launch a broad investigation into treatment of terrorism suspects and eavesdropping under the Bush administration. But He did say that prosecutions will proceed if the Justice Department finds that laws were broken.
President-elect Obama said it's more important to look forward than back. Is it?
Mr. Obama is walking a fine line. He's trying to establish trust and make friends at the CIA and with conservatives in Congress. Both groups oppose an investigation into the Bush practices. But there is also pressure for the Bush administration to be held accountable, and there's already a measure in the house to create a commission to investigate detention and interrogation techniques under the outgoing administration.
Here's my question to you: What should President-elect Barack Obama do when it comes to a broad investigation of Bush administration policies such as eavesdropping and torture?
Interested to know which ones made it on air?