FROM CNN's Jack Cafferty:
Sarah Palin is back again. Now she's taking shots at Tina Fey, Katie Couric, John McCain and the media.
The former Vice Presidential candidate gave an exclusive interview to conservative John Ziegler for a documentary on how Barack Obama got elected.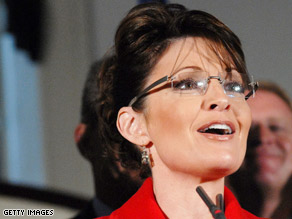 What would you ask the governor?
In it, she lashes out at Tina Fey and Katie Couric for exploiting her during her 12-week odyssey as John McCain's running mate. She said a Saturday Night Live skit crossed the line when Fey, who parodied Palin, said marriage is a sacred institution between two unwilling teenagers. It was a reference to Palin's then-pregnant and unmarried daughter.
Palin blamed the McCain campaign for the often referenced interview with CBS news anchor Katie Couric in which Palin couldn't name the newspapers she reads. She says it's all McCain's fault for granting additional access after the first interview with Couric went poorly. Poorly is an understatement. Palin came off as functionally illiterate.
Today Palin's office released a statement accusing the media of taking her statements out of context to, "create adversarial situations." She also says the media would have gone easier on her and her family if she'd been on the Democratic ticket. It should be noted that the conservative Ziegler went pretty easy on Palin, refusing to ask any difficult questions including, for example, what newspaper do you read, Governor?
Here's my question to you: Is there anything you'd like to ask Sarah Palin?
Interested to know which ones made it on air?
Bill from Medford, New Jersey writes:
I'd like to ask her if, knowing what she knows now, she'd do it all over again for 50-50 odds of winning.
JD writes:
Actually, I have 2 questions for Governor Palin. #1 – When is your 15 minutes up? #2 – Where's a good place to buy fresh turkey?
Tom from Windsor, Wisconsin writes:
Nothing. She has already told us everything she knows.
Terry from Iowa writes:
Dear Mrs. Palin, would you please go away? You are an embarrassment to yourself and the great state of Alaska. You should be the poster child for the declining standards of our education system and the ignorance and arrogance of the greatest oxymoron, the Christian Right.
Karl from San Francisco, California writes:
During the campaign, you sounded dumb. Now, you sound even dumber. Which is the real Sarah Palin?
Gerry from Toronto, Canada writes:
I have only one question for Sarah Palin. What does it cost to get her to stay in Alaska and keep her mouth shut?
RM in Poland, New York writes:
Is stupidity something you practice or is it something that comes naturally to you?
Michael from Florida writes:
I'd like to know why she puts up with people like you.