FROM CNN's Jack Cafferty:
In 2008, the United States lost more than 2.5 million jobs. That's more jobs than were lost than in any year since 1945. The losses accelerated during the final four months of the year once the credit crisis hit. Unemployment now stands at 7.2 percent, and there is more to come. This afternoon Boeing announced it plans to cut 4,500 jobs.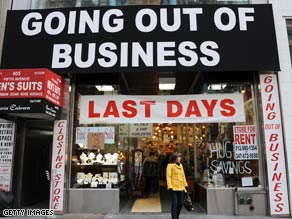 And many people who still have jobs are facing shorter hours and pay cuts.
The automobile industry is in crisis. Retail sales are awful. In fact, some stores, like Macy's, will be closing some of their locations.
Consumer confidence is at an all time low. It's like a dog chasing its tail. People are worried about loosing their jobs so they aren't spending money. Or they simply don't have money to spend. If customers aren't buying, businesses can't turn a profit and pay their employees so they have to cut jobs. Then the cycle begins anew.
Things are on their way from bad to worse.
A dire warning from President-elect Obama yesterday: If nothing is done, the recession could go on for years.
Here's my question to you: How much worse do you expect the economy to get before it begins to recover?
Interested to know which ones made it on air?
Nate from Michigan writes:
There are people holding back on all types of purchases. As soon as we have leadership change, we see a few businesses start turning around, then consumers will start cutting loose. I give it six months max. I'm not an optimist. I'm old enough to have seen this dance before.
Tom from Avon, Maine writes:
I think voters are already demanding that the Republican Party start cooperating. In six months time all obstructionists will have been sidelined and America will go back to work.
Mary from Yorktown, Virginia writes:
The economy will continue to fall as long as we have too many foreign workers and millions of legal citizens unemployed and looking. If you want to completely collapse it and what is left of our social services programs, amnesty of millions that would not normally qualify for citizenship will finish it off.
Jim from North Carolina writes:
It will get much worse, perhaps losing another one million jobs before recovery begins. Of course, it will depend on how fast the cash infusion hits our economy. If our politicians (Democrats and Republicans) drag their feet, which they always do, in passing the stimulus package, we all will be on IV's in critical condition for years.
Meg writes:
I think that foreclosures, middle class unemployment, and stock market instability will continue to cause problems for the next few years. I don't think that there is any easy way out of this situation. Congress has to stop arguing with everyone, and begin somewhere to start working on an economic cure. I really feel that it will get a lot worse, before it starts to get better.
Diane from Barneveld, New York:
Hard to determine. Bush still has 11 more days to screw it up even more.