FROM CNN's Jack Cafferty:
In the midst of a recession, the federal government announced plans to build a massive headquarters for the Department of Homeland Security.
The 3.4 billion dollar construction project will be one of the largest in the Washington, D.C. area since the Pentagon was built in the 1940s.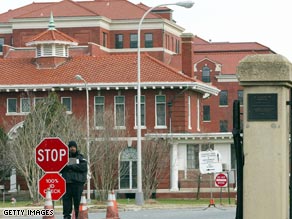 St. Elizabeth's Hospital in Washington, D.C.
But this comes at a time of economic crisis. President-elect Barack Obama has issued a dire warning about the economy and has vowed to slash the federal budget.
So does the Department of Homeland Security really need a complex on a 176- acre site perched on a hill with panoramic views of the nation's capitol? Currently the department's 14,000 employees are scattered all across the Washington, D.C. area. Maybe the problem is just bad timing?
The location is on the grounds of St. Elizabeth's Hospital, a national landmark because it's where the first federal psychiatric institution was established in 1852.You can do your own joke here.
Historic preservationists have spent years arguing that the project will ruin the site and the National Park Service is still opposed.
It's not a done deal quite yet. The project still needs approval from Congress. If it moves forward, construction, which would last until 2016, would create 26,000 jobs.
Here's my question to you: What does it mean that a $3.4 billion federal construction project can get approved during an economic crisis?
Interested to know which ones made it on air?
Jeff from Minnesota writes:
JOBS! Hopefully, lots of them.
Jackie in Dallas, Texas writes:
While I see this as an opportunity to put people to work, I feel that it is wrong to spend this money now. There are millions of square feet of unoccupied, already built space that could be modified to handle the Department of Homeland Security.
Katie from Illinois writes:
Congress must not approve this frivolous expenditure. Whose idea is this? Billions have already been wasted on this inept organization and this is just another sign of government waste. $3.4 billion could be put into much better use with our economy being in such dire shape. This is beyond being ridiculous!
Bizz from Quarryville, Pennsylvania writes:
I can agree about them needing a building for homeland security but costing 3.4 billion with a completion date of 2016 is as crazy as the land they're using to build it on. This only proves that our government can talk the talk but not walk the walk like the rest of us are forced to do.
Ron from Florida writes:
We need another site with Federal Buildings like we need another hole in our heads. Use that 3.4B dollars to repair and rehab other government buildings who need it, that will keep the 26,000 Americans working and improve what we already have in existence.
Frederic writes:
My main concern would be creating a new target for terrorists. If you have Homeland Security offices, they should be hidden and impossible to locate. That is the definition of security. Telling your enemies where you are is just blowing your cover. A dangerous idea, for all of us, that should be stopped while we still can.
Ramona in Las Vegas, Nevada writes:
Jack, I think Wolfes dancing is HOT.