FROM CNN's Jack Cafferty:
In the midst of a recession, the federal government announced plans to build a massive headquarters for the Department of Homeland Security.
The 3.4 billion dollar construction project will be one of the largest in the Washington, D.C. area since the Pentagon was built in the 1940s.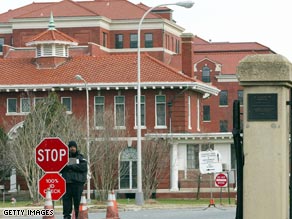 St. Elizabeth's Hospital in Washington, D.C.
But this comes at a time of economic crisis. President-elect Barack Obama has issued a dire warning about the economy and has vowed to slash the federal budget.
So does the Department of Homeland Security really need a complex on a 176- acre site perched on a hill with panoramic views of the nation's capitol? Currently the department's 14,000 employees are scattered all across the Washington, D.C. area. Maybe the problem is just bad timing?
The location is on the grounds of St. Elizabeth's Hospital, a national landmark because it's where the first federal psychiatric institution was established in 1852.You can do your own joke here.
Historic preservationists have spent years arguing that the project will ruin the site and the National Park Service is still opposed.
It's not a done deal quite yet. The project still needs approval from Congress. If it moves forward, construction, which would last until 2016, would create 26,000 jobs.
Here's my question to you: What does it mean that a $3.4 billion federal construction project can get approved during an economic crisis?
Interested to know which ones made it on air?