FROM CNN's Jack Cafferty:
In 12 days Barack Obama will be sworn in as the 44th President of the United States. He has huge challenges in front of him starting with the crumbling economy and two wars.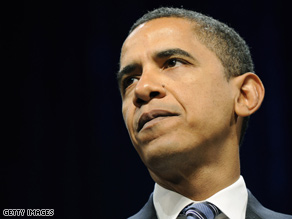 Is the honeymoon already over?
Hopes are high for him to turn things around and indications are that he will. According to a new Gallup Poll 65% of Americans are confident in President-elect Obama's ability to be a good President. This is down slightly from the 70% approval rating he had a week ago.
Last month a CNN Opinion poll found that 82% of Americans approved of how Obama is handling his transition.
Since returning from his Hawaiian vacation, Mr. Obama has encountered a couple of bumps in the road. The situation in Gaza (which he's stayed away from by deferring to President Bush), criticism of Leon Panetta as his choice for CIA Director, Bill Richardson withdrawing his nomination for Commerce Secretary, and official stats that the deficit is projected at more than $1.2 Trillion this year. All this before he's even moved into the Oval Office.
Here's my question to you: Has your confidence in President-elect Barack Obama declined any since the election?
Interested to know which ones made it on air?
Connor from Chicago, Illinois writes:
I don't think confidence has declined. I think that reality has set in and people who didn't like Obama are starting to see reasons to like him a little, people who worshipped Obama are finding that he is not really a messianic figure who is going to sort everything out, and those of us who were in the middle are simply seeing the reality of an Obama administration: A lot of good ideas, untested results, and uncertainty all around.
Joan from Canada writes:
I am seeing a lot of support for Obama on the blogs. Those that oppose his plan don't seem to have any better suggestions and are being shot down pretty quickly by the others. It looks like you've got a winner.
JD from New Hampshire writes:
Absolutely not! This must be the media scandal du jour. Poor Obama hasn't even been sworn in and apparently, according to the talking heads, he's made a mess of his chance to lead the country. Give it a rest. Let's be optimistic for a change and maybe we can turn this country around. Obama is probably the most intelligent being to inhabit the White House and could be one of our very best leaders.
Jack from Princeton, New Jersey writes:
This guy will have the toughest job on the planet cleaning up after the carnage of Bush and the Republicans. He's exceeding expectations.
Dave from Saint Louis, Missouri writes:
Absolutely not! I had no confidence in him at all to begin with. He has no where to go but up.