FROM CNN's Jack Cafferty:
As a country, we are beyond broke. The Congressional Budget Office says the deficit this year will top $1.2 trillion. President- elect Barack Obama wants a stimulus package on his desk in the neighborhood of $800 billion shortly after he takes office. Predictions are that the federal deficits will exceed a trillion dollars for "years to come."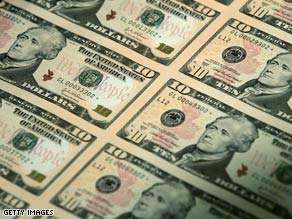 Obama has a tough task: preach fiscal discipline to try to get Republican support (not that they've practiced anything approaching fiscal discipline for the past eight years), while at the same time, expanding health care coverage and investing in alternative energy.
The President-elect continues to talk about cutting federal spending, eliminating things from the budget, and so on. But the fact is that meaningful cuts are tough to come by. Unless you take a cleaver to defense and entitlements - Medicare and Social Security are the fastest growing drains on the federal budget - there's just not a lot of meat on the budgetary bone to trim. Plus government workers are civil servants who can't be fired.
At a news conference, Mr. Obama did say he'd talk about entitlements but not until next month.
Here's my question to you: How would you go about cutting federal spending?
Interested to know which ones made it on air?
David from San Diego writes:
I would eliminate "corporate welfare" (e.g., farm subsidies) and make all expenditures go through the committee review process - no "earmarks" added after markup without committee scrutiny. I am not opposed to so-called "pet projects" proposed by individual legislators as long as they are subject to open, transparent review and decision making.
GRL from Pennsylvania writes:
How about bringing our troops home from the Middle East? That should certainly cut some spending. Not only does it cost to keep our troops in Iraq and Afghanistan, but the medical costs to attempt to mend the bodies and minds of the survivors of those wars are prohibitive. There must be a more cost-efficient way to stop terrorism.
Stephen writes:
Raise the age at which Social Security can be collected to 70 and the ceiling of earnings up to which Social Security tax must be paid to $500K per year.
Mark from Oklahoma writes:
How about sending back ten million illegal aliens so their own government can support, educate and care for their health needs?
Billy from Las Vegas writes:
You can start with some of this over priced, consistently over budget, Pentagon foolishness that doesn't work like the "Star Wars" style ABM program. This country spends more money for so called "defense" than all the nations of the world combined with much of it pure waste.
Ike from Plainview, New York writes:
I would reduce the federal budget deficit by eliminating social security for those who earn more that $100,000.00 a year and Medicare for those who earn more that $150,000.00. How much do you need if the kids are out?
Jim from Las Vegas, Nevada writes:
Legalize pot. Not only would that cut enforcement spending and prisons, but the tax revenue would be handy, too.