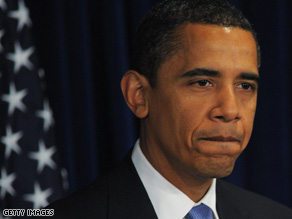 FROM CNN's Jack Cafferty:
Barack Obama's inauguration is 13 days away. He's not in office yet, and some say the Democrats are off to a rocky start.
Senator Dianne Feinstein, incoming Chair of the Senate Intelligence Committee, was quick to publicly complain that she hadn't been notified that President-elect Obama intended to pick Leon Panetta to head the CIA.
The Democratic Senate refused to seat Roland Burris yesterday for the office vacated by the President-elect.
Nancy Pelosi was talking earlier this week about having to actually be supportive of the President of the United States. She didn't sound overly thrilled with the idea since she likes it best when it's all about her.
And Harry Reid is a loose cannon.
There's the Rod Blagojevich scandal, the Illinois Governor accused of pay for play politics. Then there's New Mexico Governor Bill Richardson withdrawing his nomination as secretary of commerce because of an investigation into a campaign donor.
Finally, there doesn't seem to be a lot of public statements in support of the new President from members of his own party.
Here's my question to you: Are the Democrats getting off to the right start ahead of Barack Obama's inauguration?
Interested to know which ones made it on air?
Denis from Pittsburgh, Pennsylvania writes:
So far, Obama yes. The Democrats in Congress, no. In the first 160 days of the new administration, the Democrats in Congress will most likely make fools of themselves. Pelosi will have hissy fits that will show how incompetent she and her colleagues are. The Republicans will fare much better. Overall, the approval rating of Congress will stay the same. Same old, same old. President-elect Obama will give us a chance and the Democrats in Congress will take it away.
Terrell from Escondido, California writes:
Jack, As a lifelong Democrat I have to say nope. With the Blagojevich/Burris thing, the Feinstein snit, and the Richardson investigation, we are well on our way to shooting ourselves in the foot again.
Karen from Dodge City, Kansas writes:
Democrats aren't used to working as a team and for that reason Obama's biggest handicap is his own party. Hopefully he will give them the "my way or the highway" speech and get rid of some of the dead weight like Reid and Pelosi. That would go a long way toward convincing the public that Obama is serious about building an effective administration.
Krishna from California writes:
I don't think that they are, I am sorry to say. They have enjoyed complaining and when they were put in charge they have failed to deliver. Pelosi and Reid are pretty inept. Feinstein has been part of Bush-Cheney camp as far as CIA actions go. She was asleep at the switch when atrocities were going on there and failed to render oversight. She has no credibility now, in my opinion.
Tony from Torrington, Connecticut writes:
Are you serious? It's the Keystone Cops visit Washington DC. I can imagine the newspaper articles if these guys were Republicans. The Burris incident has Governor Rod Blagojevich pulling the strings of Reid, Durbin, Pelosi, and Obama. It's that Chicago training!
Karen from Nashville, Tennessee writes:
Sounds normal. We have a chorus of prima donnas and the conductor isn't on the stage yet.