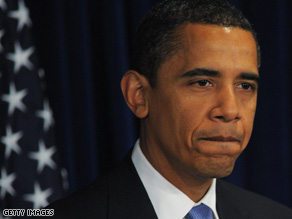 FROM CNN's Jack Cafferty:
Barack Obama's inauguration is 13 days away. He's not in office yet, and some say the Democrats are off to a rocky start.
Senator Dianne Feinstein, incoming Chair of the Senate Intelligence Committee, was quick to publicly complain that she hadn't been notified that President-elect Obama intended to pick Leon Panetta to head the CIA.
The Democratic Senate refused to seat Roland Burris yesterday for the office vacated by the President-elect.
Nancy Pelosi was talking earlier this week about having to actually be supportive of the President of the United States. She didn't sound overly thrilled with the idea since she likes it best when it's all about her.
And Harry Reid is a loose cannon.
There's the Rod Blagojevich scandal, the Illinois Governor accused of pay for play politics. Then there's New Mexico Governor Bill Richardson withdrawing his nomination as secretary of commerce because of an investigation into a campaign donor.
Finally, there doesn't seem to be a lot of public statements in support of the new President from members of his own party.
Here's my question to you: Are the Democrats getting off to the right start ahead of Barack Obama's inauguration?
Interested to know which ones made it on air?