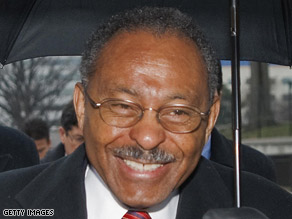 FROM CNN's Jack Cafferty:
Barack Obama really didn't need this. Roland Burris declared he's the Senator from Illinois despite the controversy surrounding his appointment. He was picked by Illinois Governor Rod Blagojevich, who is accused of trying to sell the seat vacated by President-elect Barack Obama.
But when Burris made his way to Capitol Hill this morning, the Senate refused to seat him. Senate Majority leader Harry Reid said it's because of incomplete paper work. His certificate of appointment is signed by the Illinois Governor but not by the secretary of state. But it's really much more than that.
Burris said his lawyers will handle it and he has a private meeting scheduled with Senate leaders tomorrow.
He said he didn't want to make a scene on Capitol Hill-but he did. It was a circus.
People are speaking out on Burris' behalf, saying his appointment is legal and he should be seated.
But this whole thing smells. There are criminal charges pending against the Illinois governor who appointed Burris. Those charges include trying to profit from naming Obama's replacement in the U.S. Senate. It's sort of like letting Bernie Madoff run a hedge fund while he's awaiting trial on charges of stealing $50 billion from investors.
Our Question is: When it comes to Roland Burris, the controversial Senate appointee from Illinois, what should the U.S. Senate do?
Here's my question to you: When it comes to Roland Burris, the controversial Senate appointee from Illinois, what should the U.S. Senate do?
Interested to know which ones made it on air?
Maureen in Georgia writes:
It seems that legally Burris should be seated because Blagojevich is still the Governor, as corrupt as he may be. But Burris wants that seat so desperately that he would accept it from a corrupt Governor under investigation and that, to me, is a red flag not to trust him. Burris might have not done anything wrong, but where is his integrity?
Greg from Cabot, Arizona writes:
Send him back to Illinois for the proper paperwork. Just like at the dry cleaners, no ticket, no laundry. The Illinois Secretary of State needs to certify his appointment first. Until that happens, everything else is just a dog and pony show.
Mike from Hot Springs, Arkansas writes:
The man was appointed according to Illinois law. There is absolutely no reason not to seat him. The Dems are making a big mistake here. As an old trial lawyer myself, I think that it is time for dear Harry Reid to get off the dime and start negotiating.
Mark from Oklahoma City, Oklahoma writes:
The Governor appointed him and he should be sworn in. We had a President a few years ago who was going through an impeachment process and I don't recall him being unable to carry out his official duties during the impeachment trial. Roland Burris should camp out on the Senate's doorstep until they agree to swear him in.
David in California writes:
Unless there is evidence to show Mr. Burris is somehow involved in the wrongdoing of the Governor, and I have not seen or heard any such evidence, he should be seated as a Senator from Illinois. He was legally appointed to the position and he has not personally committed an act that would disqualify him. Sure, the Governor of Illinois is a scum bag, but that does not mean Mr. Burris is incapable of dutiful and honorable service to the people of Illinois.
George in New York, New York writes:
The idea of Harry Reid being jury, judge and prosecutor is more distasteful than the idea of Burris being appointed by a felon. Let Burris stay. Lock the doors on Reid.