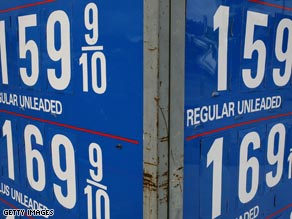 FROM CNN's Jack Cafferty:
Go figure. Gas prices are actually down since President Bush took office eight years ago.
According to the Energy Information Administration, the average price per gallon last week was $1.59. When adjusted for inflation, that's 9% less than when President Bush took office and considerably less than the cost last summer which was more than $4 per gallon.
Gas prices are starting to creep up a few cents now. Oil prices have risen in response to the fighting in Gaza, and there are predictions that after declining for 5 months gasoline could cost $2 a gallon by spring.
Meanwhile, consumers are only too happy to spend less at the pump. People are now spending $25 a week on gas instead of $75. That translates to a savings of about one billion dollars a day for American motorists, according to AAA. They say high gas prices contributed to the recession, and lower prices could help turn things around by leaving people with more cash in their pockets to spend on something besides gas.
The downside is that lower gas prices take the emphasis off developing alternative energy sources and breaking our dependence on imported oil.
Here's my question to you: Are lower gas prices an asset or a liability for the U.S.?
Interested to know which ones made it on air?
Tripp from Mechanicsburg, Pennsylvania writes:
The Earth may pay a higher price in ecological terms, but tax payers are receiving a big "gas-tax" break right now. Lower gas prices mean lower cost for producing goods, lower cost for transporting goods, and will eventually lead to lower prices for those goods. It's also really nice having a few more dollars in my wallet at the end of the week.
Karly in Portland, Oregon writes:
Liability. We need to have a gas tax imposed to bring the rates back up to, or close to where they were in Summer '08. This encourages other means of transportation, while providing funding towards ending our dependency on foreign oil.
Steve in Canada writes:
Short term it's a bonus. It puts more dollars in everyone's pocket. Long term it restarts a bad cycle where exploration and development suffer. We drive more because it's cheaper. Thirsty vehicles become the norm, and prices go up again. The cycle repeats. Been there, done that!
Jim in Indiana writes:
Jack, there are no jobs in my town. To get work you have to travel out of town. Sad part is after transportation cost you are making less then minimum wage. Gas price is an asset to the individual but a liability to the country because now gas consumption is up in order for people to survive.
Chuck in Warren, Ohio writes:
Jack: The price of gas is only a come-on to keep this country under the thumb of Big Oil and Mideast control. The best thing the auto industry can do right now is to build vehicles with Flex-fuel systems that will use CNG, Gasoline, and Bio-based fuels. This would bridge the gap to fix the energy problems until new systems replace oil based fuels.